Thorne Research MediClear Protein Powder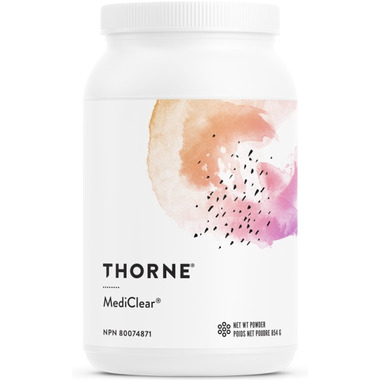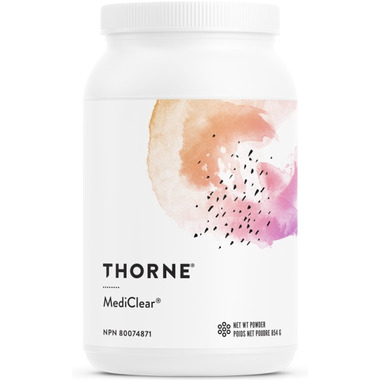 Thorne Research MediClear Protein Powder
Thorne Research MediClear Protein Powder provides essential nutrient cofactors, while supplying an adequate amount of low-allergenicity protein and can be very beneficial to liver function. Many challenges to health can arise when a patient's liver is not functioning as it should, including poor digestion, imbalances in intestinal bacteria, and fatigue. MediClear includes beneficial detoxification nutrient cofactors, as well as an array of extra nutrients and botanicals in powder form that can be added to water, fruit juice, or nut milk.

Ingredients:
Two Scoops (40.7 g) Contain:
Calories 140
Calories from Fat 15
Total Fat 2.5 g
Saturated Fat 1.5 g
Total Carbohydrate 5 g
Dietary Fiber 2 g
Sugars 3 g
Protein 20 g
Vitamin A (3,000 IU/900 mcg RAE as Beta Carotene and 2,000 IU/600 mcg RAE as Palmitate) 1.5 mg
Vitamin C (as Ascorbic Acid) 300 mg
Vitamin D (as Vitamin D3) (400 IU) 10 mcg
Vitamin E (110 IU/73.9 mg as d-Alpha Tocopherol and 10 IU/6.7 mg as d-Alpha Tocopherol from 88.7 mg Mixed Tocopherols) 80.6 mg
Thiamin (as Thiamin HCl) 12 mg
Riboflavin (as Riboflavin 5'-Phosphate Sodium) 5 mg
Niacin (30 mg as Niacinamide and 8 mg as Niacin) 38 mg
Vitamin B6 (as Pyridoxal 5'-Phosphate) 10 mg
Folate (as L-5-Methyltetrahydrofolate† from L-5-Methyltetrahydrofolic Acid, Glucosamine Salt) 300 mcg
Vitamin B12 (as Methylcobalamin) 50 mcg
Biotin 150 mcg
Pantothenic Acid (as Calcium Pantothenate) 50 mg
Calcium (as Calcium Citrate) 300 mg
Iron 5 mg
Magnesium (as Magnesium Citrate) 150 mg
Zinc (as TRAACS® Zinc Bisglycinate Chelate)†† 10 mg
Selenium (as L-Selenomethionine) 70 mcg
Manganese (as TRAACS® Manganese Bisglycinate Chelate)†† 1.5 mg
Chromium (as TRAACS® Chromium Nicotinate Glycinate Chelate)†† 100 mcg
Molybdenum (as TRAACS® Molybdenum Glycinate Chelate)†† 50 mcg
Sodium 190 mg
Potassium (as Potassium Citrate) 100 mg
Proprietary Blend††† 25.53 g
Pea Protein Isolate
Rice Protein
Glycine†††† 1.65 g
Medium Chain Triglycerides (MCTs) 1.5 g
L-Glutamine†††† 500 mg
L-Lysine (as L-Lysine Monohydrochloride)†††† 500 mg
Milk Thistle extract (fruit) (Silybum marianum) 250 mg
Taurine†††† 110 mg
Methyl Sulfonyl Methane (MSM) 100 mg
Betaine Anhydrous (Trimethylglycine) 50 mg
Green Tea Phytosome††††† (Camellia sinensis extract (leaf) / Phosphatidylcholine complex) 50 mg
N-Acetyl-L-Cysteine†††† 50 mg
Choline Citrate 30 mg
Glutathione (Reduced)†††† 25 mg
Boron (as Bororganic™ Boron Glycinate Complex)†††††† 100 mcg
Lutein (from Aztec Marigold extract (flower) (Tagetes erecta)) 60 mcg
Vanadium (as Vanadium Citrate) 50 mcg

Other Ingredients: Pure Cane Molasses, Silicon Dioxide, Monk Fruit concentrate (fruit) (Siraitia grosvenorii)†††††††, and Vanilla and Orange Flavoring.
Contains ingredients derived from soy (phytosomes).

Suggested Use: For adults and children 12 or more years of age. Mix one serving (two scoops) with at least 8 ounces of cold water, juice, rice milk, or nut milk, or as recommended by your health-care practitioner. This product is not a medical food. It is intended to be utilized in conjunction with a complete dietary program. Do not use in diets supplying less than 600 calories per day without complete medical supervision.

Risk Information: Do not use if you are pregnant or breastfeeding. Consult a health-care practitioner prior to use if you have cystinuria, or if you are taking antibiotics or nitroglycerin. Consult a health-care practitioner prior to use if you have cardiovascular disease, an iron deficiency, if you are following a low protein diet or if you have a liver disorder or develop symptoms of liver trouble (such as abdominal pain, dark urine or jaundice). Zinc supplementation can cause a copper deficiency. Some people may experience mild gastrointestinal bloating, constipation or indigestion.