Tide PODs Laundry Detergent Original Scent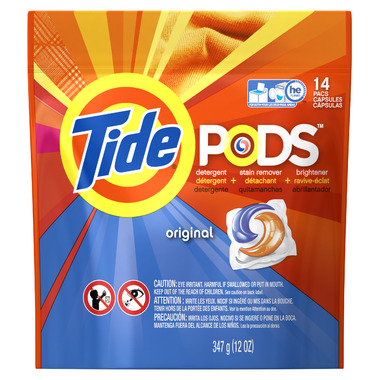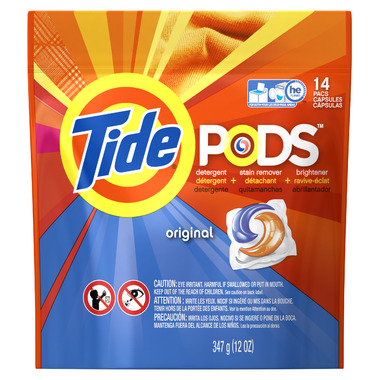 Tide PODs Laundry Detergent Original Scent
Tide's reinventing the way you do laundry! Tide Pods clean, fight stains, and brighten all in one. No more pouring, no more spills—just toss one in. It's that easy!
Features:
Detergent + stain remover + brightener in one
1 pac = 1 laundry load
Innovative, multi-chamber design separates ingredients until they hit the wash for outstanding cleaning power
No more measuring or spilling. Just toss one in!
Dissolves quickly in hot & cold
Works in all machine types
Tide's reinventing the way you do laundry!
Caution: Keep out of the reach of children and pets. Do not put in mouth or ingest. May irritate eyes. Do not get in eyes. Always close container after use. Never handle pac with wet hands. Store in a cool, dry place.

LESLEY:
more than a year ago
Love that these pods are easy to use, carry & store. A couple of problems is that they don't always dissolve completely in warm water, hot yes. To keep them from ending up on the rim of the machine and not in the tube, I have occasionally put them in a clothing's pocket or if the load is too large they will not dissolve properly. This has happened to me more than once now. Now I watch the placement carefully especially for front loaders. Otherwise, you will have at least one clothing item all stuck hard and gucky like gum that didn't dissolve. Otherwise, I love the concept of these pods.
Page
1