Tommee Tippee Newborn Starter and Transition Set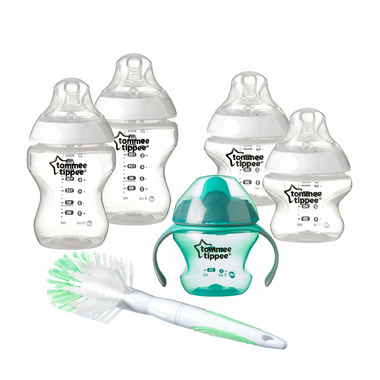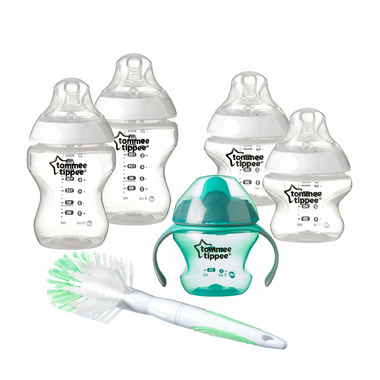 Tommee Tippee Newborn Starter and Transition Set
The Closer to Nature range has been developed with breastfeeding experts and moms to mimic the breast's natural flex, stretch and movement. The soft silicone nipple feels like skin, and gently elongates and flexes during feeding to mimic a natural breastfeeding action.
The Newborn Starter Set contains all of the bottles and nipples needed to bottle feed a newborn with confidence and begin transitioning to a cup. The starter set contains 2 x 5 fl. oz. feeding bottles, 2 x 9 fl. oz. feeding bottles, 1 x Bottle & Nipple Brush, 1 x First Sips Transition cup.
Tommee Tippee developed Closer to Nature bottle line knowing babies are happiest when everything works just the way nature intended - especially when they're hungry!
At the heart of the Closer to Nature line Tommee Tippee's award-winning baby bottle, has been specially designed to encourage your baby's natural feeding action.
Features:
Easy latch natural feel nipple for smooth transition between breast and bottle for "just like Mom" feedings
Optimum venting valve with slow flow nipple for less air intake and less discomfort for baby
The First Sips cup's new two-piece valve is easy to access, easy to clean and makes baby's cup non-spill.
The starter set contains: 2 x 5 fl. oz. feeding bottles, 2 x 9 fl. oz. feeding bottles, 1 x Bottle & Nipple Brush, 1 x First Sips Transition cup
Always BPA and phthalate free for your ultimate reassurance