Tom's of Maine
Tom's of Maine Simply White Fluoride-Free Plus Toothpaste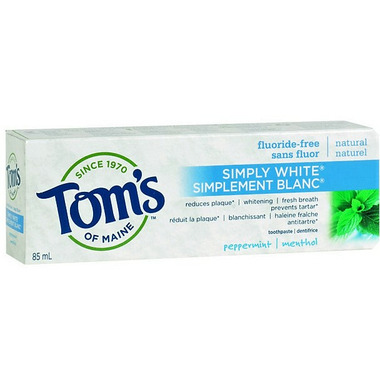 Tom's of Maine
Tom's of Maine Simply White Fluoride-Free Plus Toothpaste
Peppermint
85 mL
Tom's of Maine Simply White Fluoride-Free Plus Toothpaste
is rated out of
5
by
48
.
---
Description
Tom's of Maine Peppermint Fluoride Free Toothpaste plus whitening contains zinc citrate for astringency and silica for whitening.
Ingredients: Calcium carbonate, Glycerin, aqua, Xylitol, Hydrated silica, aroma, Sodium lauryl sulfate, zinc citrate, Chondrus crispus (Carrageenan extract), Sodium bicarbonate
Tom's of Maine does not use artificial colours, artificial flavours or fragrances, or artificial preservatives. Additionally Tom's of Maine products are made without animal ingredients and are gluten free.

Highlights

Rated

5

out of

5
by
Shanna
from
I received this toothpaste I'm my last order as a free sample, and I cannot believe how white my teeth have been since I've started using it a couple of months ago. They have always been naturally very white, but since this toothpaste I've noticed they are ridiculously bright white. I see that other reviewers didn't notice the same results, but I felt compelled to write a review because I definitely noticed a change.
Date published: 2019-05-18
Rated

5

out of

5
by
bilou
from
great product
I love this toothpaste, great taste....no fluoride ...just perfect
Date published: 2021-05-24
Rated

5

out of

5
by
Renata
from
Best ever!! Just knowing that the ingredients are so natural makes me love this toothpaste more . The price is right too. There's a really nice minty taste that leaves your mouth feel refreshed afterwards. The whitening effect is a bonus too!
Date published: 2014-07-26
Rated

5

out of

5
by
Mora
from
Excellent product I have an autoimmune problem that causes sensitivity to my gums. Toothpastes with fluoride irritate them but this product is excellent - no irritation and cleans teeth and breath well.
Date published: 2011-12-06
Rated

1

out of

5
by
Bonnie
from
Ewwww
I also received a small sample of this in my last order and opened it today. It tastes terrible and left not only a bad taste in my mouth but a slick coating on my teeth. I don't know about the whitening factor because I have only used it once and am unlikely to use it again. Only good thing it was free.
Date published: 2022-02-11
Rated

4

out of

5
by
Marlene
from
My new choice of toothpaste! I love the way it cleans my teeth although i don't notice too much of whitening happening ( I also drink like 1-2 cups of coffee a day) and it doesn't really leave your mouth feeling super fresh after and feel i still need to use mouthwash to get that satisfied mouth clean!
Date published: 2018-01-06
Rated

4

out of

5
by
Maire
from
I bought this toothpaste because it's cruelty free. It doesn't leave a fresh taste in my mouth, and takes a bit of getting used to. If I can find another cruelty-free toothpaste then I'll switch, if not I'll continue with Tom's.
Date published: 2018-02-05
Rated

5

out of

5
by
bianca
from
dont know if it really helps whiteh your teeth. then again you cant whiten teeth that dont have stains but this does leave your mouth feeling fresher than the others for amlonger period of time and its flouride free.
Date published: 2011-07-05