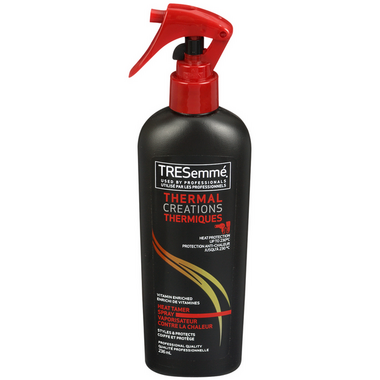 236 mL
TRESemme Heat Tamer Hair Spray
is rated out of
5
by
276
.
---
Description
Curling irons, hair dryers and flat irons... you can't avoid heat to obtain that perfect look. You can minimize the damage it causes. With the TRESemmé® Thermal Recovery® Collection, heat doesn't have be your enemy. A system that cleanses and nourishes your hair where it needs it most, TRESemmé® has focused its line of professional hair products on harnessing the power of heat, and protecting you from appliance damage.

TRESemmé® Thermal Creations® Heat Tamer® Hair Spray is a hair spray for women that stands up to flat irons and curling irons by guarding against heat and friction. With a moisture-locking vitamin complex, this heat protection spray guards against harsh styling damage, leaving hair shiny and exquisitely soft.

Use TRESemmé® hair spray both on damp hair before you blow-dry and on dry hair before curling or flat ironing. This shields hair from damaging heat. To thoroughly protect against heat styling damage, use with the new TRESemmé® Thermal Creations® Mousse. If you think TRESemmé® Thermal Creations® Heat Tamer® hair spray is the best heat protection spray, don't keep it a secret. Leave a review and share your tips.

How to use the Heat Protect Spray: Spray Tresemme hair spray generously 15-2 cm away, from mid-shaft to ends. The trigger spray allows for easy misting.

Ingredients: Water (Aqua), Glycerin, Amodimethicone, PEG-12 Dimethicone, Propylene Glycol, PVP, Fragrance (Parfum), Polysorbate 20, Cetrimonium Chloride, DMDM Hydantoin, Benzophenone-4, Triethanolamine, Disodium EDTA, Hydrolyzed Silk, Ascorbic Acid, Tocopheryl Acetate, Panthenol, Biotin, Niacinamide.

Rated

5

out of

5
by
Khaleesi09
from
(This review was collected as part of a promotion.) This spray is a hair saver! I use it right before blow drying and straightening my hair and I find it really does do its job! I normally have pretty dry, brittle hair. I've dyed it many times over the years and I frequently straighten my hair leaving it very dry and damaged. You can certainly see a difference when I use this spray before applying heat to my hair! It feels soft and it looks shiny and healthy, not to mention it smells amazing! Not only is it a great spray but the price is great too! Would definitely recommend it to others, especially if they have hair like mine!
Date published: 2016-05-24
Rated

3

out of

5
by
Cuppedcakes
from
(This review was collected as part of a promotion.) Sadly my locks do not suit the #TRESemme thermal creations heat tamer spray and it is for that reason I am unable to recccomend it, only as it was far too heavy of a formula for my fine hair. Having said that if you find your hair needs a cage and whip this may be the taming spray for you! On my hair if I use the spray sparingly I do not notice much in the way of improvement however too much and my hair is oily, and limp. I do enjoy the light smell and I do find my hair is a bit shinier after using the spray. Likely will not purchase this spray again only as it is not as effective on my hair as I had hoped.
Date published: 2016-05-16
Rated

5

out of

5
by
sdb413
from
(This review was collected as part of a promotion.) I really like the TRESemme Heat Tamer spray. I have tried a couple other brands but continue to go back to this one. The spray is nice and light, smells nice and never leaves a film or makes my hair sticky in any way.<br /> I use this on damp hair after washing and before styling but I also use it on dry hair on the days I don't wash my hair, it works just as well on wet or dry hair and especially when using heat to style dry hair you absolutely need some kind of protectant or you will damage your hair and totally dry it out.<br /> <br /> Great stuff, will continue to use, oh and you really can't beat the price!
Date published: 2016-05-16
Rated

5

out of

5
by
rebeccaryann
from
(This review was collected as part of a promotion.) I typically blow dry and use a flat iron daily. I never really used a heat spray before, and was I ever missing out! A friend of mine was helping me get ready for a family photo shoot and she brought over this product as she was doing my hair. I have never been so happy with how my hair looked, felt and smelled before! This is an amazing product! It leaves hair so smooth, not greasy, light weight and smelling fantastic! I went out the next day and bought my own! I use this daily now and can see a huge improvement on the overall healthy appearance of my hair.
Date published: 2016-10-18
Rated

2

out of

5
by
Samixo
from
(This review was collected as part of a promotion.) I was pretty disappointed with this product. The price was great. The size of the bottle was great and the bottle itself was good too. The spray itself, however, left my hair wet and sticky! My hair was dry and ready to be straightened and then i used this product. I followed the instructions and didn't over spray but it still left my hair wet which caused it to burn when i straightened it which is the exact reason why i used the spray to begin with! I would not recommend this product to anyone. Even though the price is good, stick with another product.
Date published: 2017-09-29
Rated

5

out of

5
by
Raynbow10
from
(This review was collected as part of a promotion.) Heat protection is very important when using blow dryers, flat irons and just being in the sun in general. It helps protect your hair from damage especially for those that pur heat on your hair a lot. I like tresemme heat tamer it protect up to 450° this is professional quality a leave in spray. Always use a heat protector to help with damage that heat temperature and styling tools can cause.. Spray this 6-8 inches on damp hair before blow drying and dry hair before flat/curling your hair. Thus bottle also has a lock/unlock button
Date published: 2018-09-19
Rated

5

out of

5
by
kavleenb
from
(This review was collected as part of a promotion.) I came across this product about 6 years ago and was actually a recommendation by a beauty blogger. And man, I'm hooked since that day!!! I use it anytime I'm straightening / blow drying or curling my hair. It has a light smell which I don't mind. Once sprayed on hair, I feel my hair is protected against all the heat my hair would go through. I have seen significant decrease in the amount of hair fall ever since I started using this. I would never use any heat product on my hair without spraying this first. Must try for all.
Date published: 2017-09-28
Rated

3

out of

5
by
ellenyw
from
(This review was collected as part of a promotion.) I was recommended to use this product when I first started to straighten and curl my hair years ago. To be very honest, I don't notice much difference when I use and don't use this, but I like to use it to feel protected. I don't like to spray stuff in my hair cause it weighs it down but I use this occasionally. Overall, average heat protectant but I haven't had particularly ruined hair when I didn't use this so not sure if I would repurchase. <br /> Cheap and lasts a long time so it's worth to buy and protect your hair!
Date published: 2016-05-25