Udo's Choice Beyond Greens Organic Greens Powder Blend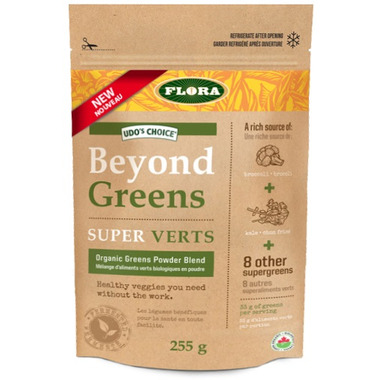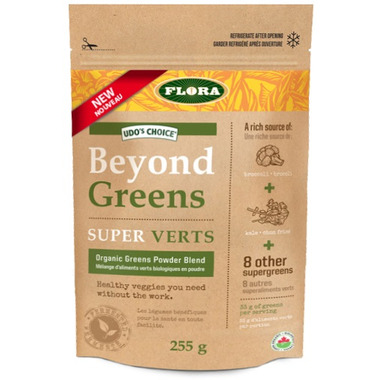 Udo's Choice Beyond Greens Organic Greens Powder Blend
Beyond Greens® is a combination of leafy greens which are high in nutrients, organic whole foods, herbs, and superfoods. These premium quality, all-vegetarian ingredients have been carefully selected to provide optimum health, that is both complete and convenient. The grass blend in the formula has been fermented with probiotics to promote easier digestion, thereby maximizing the benefits of Beyond Greens®.
Features:
Each 8g tablespoon provides 3g (12% DV) of fibre, 10% DV vitamin C, 20% DV of iron and 2g of protein
Packaged in a re-sealable zip lock pouch for convenience and freshness
Features a fermented grass blend of barley grass, oat grass, wheat grass, and alfalfa grass with probiotics Lactobacillus plantarum, Saccharomyces boulardii, and molasses
Also contains green superfoods like broccoli, kale, chlorella, spirulina, and dulse
Every 8g serving of Beyond Greens® contains 2 of the recommended 7 vegetable servings required daily
The equivalent of 33g of raw, fresh greens goes into the making of each 8g serving
Fermented to promote easier digestion and maximum absorption of nutrients
Provides all of the benefits of juicing vegetables without all of the sugar
An easy and convenient way to incorporate greens into any diet
Add Beyond Greens® to water and smoothies or bake with it to add an additional boost of greens to virtually any recipe
Organic, Non-GMO, Vegetarian, Soy Free
Suggested Use:
Mix 1 scoop (8 g) as desired with a glass of water. Drink plenty of pure water throughout the day. Refrigerate after opening for optimal freshness.
Ingredients:
Fermented grass blend* (barley grass*, oat grass*, wheat grass*, alfalfa grass*, Lactobacillus plantarum, Saccharomyces boulardii, and molasses*), alfalfa grass*, barley grass*, defatted flax seed*, oat grass*, rye grass*, broccoli*, ginger root*, chlorella*, dulse*, licorice root*, spirulina*, kale*, defatted sunflower seed*, cinnamon bark*, and defatted sesame seed*, natural flavours. *Organic
Natural, Organic, Vegan, Sugar Free, Non-GMO (not certified), Dairy Free, Peanut Free Product, Tree nut free product, Peanut Free Facility, Canadian Brand