Umbra Flex Gel-Lock Soap Dish White
Umbra Flex Gel-Lock Soap Dish White
is rated out of
5
by
8
.

The Umbra Flex Gel-Lock Soap Dish takes a new approach to in-shower storage. The patented Gel-Lock™ technology locks out air for a stronger and longer lasting hold allowing you to get the most out of your new storage space.
Features:
Strong, long lasting hold
The unique twist to grip feature creates a vacuum suction to lock air out
Easy to care for and keep clean
Rust proof design and integrated drainage holes prevent water from pooling
Great for use in and outside the shower in the bathroom or kitchen
Dimensions: 4 x 5 1/4 x 3 1/4" (10.1 x 13.3 x 8.3 cm)
Easy Application
: 1) Clean surface, 2) Press into place, 3) Twist to activate Gel-Lock™. For best results use on a non-porous surface such as glass, tile or fibreglass.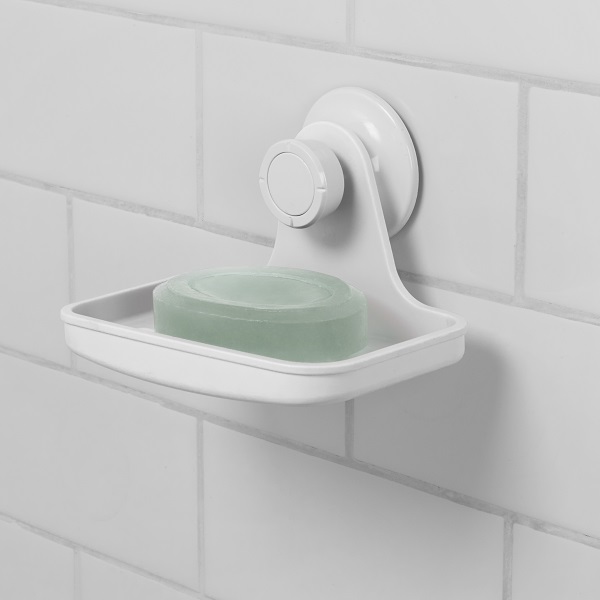 Similar Storage & Organization
Rated

4

out of

5
by
Kay
from
Good soap dish
I wish Well.ca had more thorough descriptions on their website.. When I opened the box the instructions say that it doesn't work on plastic showers. I wish I had known before I bought! Despite this, it still seems to be holding up well on my plastic shower wall. It mostly lets the water drain, though the design does leave a little bit of pooling water. I use it at a low level so my toddler can get his own soap bar. So far so good :)
Date published: 2020-11-23
Rated

5

out of

5
by
Ruby
from
Perfect for shampoo bars!
Was looking for something to store my shampoo bar that would allow it to drain properly. Absolutely perfect and it fits two standard size round shampoo & conditioner bars.
Date published: 2021-05-07
Rated

5

out of

5
by
Stephanie
from
Amazing product!
I have been using it for almost half a year and it still holds up really strong. I did hit it sometimes by accident but it still sits where it is. I believe on the package it says to tighten it every a month while I didn't do that but it still sticks to the tile perfectly. Highly recommend!
Date published: 2020-11-26
Rated

5

out of

5
by
Gabrielle
from
Amazing soap dish!
The best soap dish I ever bought! Holds firmly in place even if my shower is not tiled but just a regular acrylic shower. This soap dish is easy to clean and it doesn't hold water, so your soap will not melt or become mushy...
Date published: 2021-02-03
Rated

5

out of

5
by
Shane
from
Very handy item for the bath.
Very well constructed and great for use in showers or bath. Happy with my purchase. Easy to clean !
Date published: 2021-07-08
Rated

5

out of

5
by
Tanya
from
Great holder. It stays in place and doesn't require cleaning as all water drain well.
Date published: 2020-08-14
Rated

4

out of

5
by
Umbra
from
Suction holding up so far
Only downside is the knob that you twist to tighten has a rather large "footprint"
Date published: 2021-04-19
Rated

5

out of

5
by
Susie
from
Great dish
Love how this sticks anywhere, looks great, and keeps soap dry!
Date published: 2021-01-26