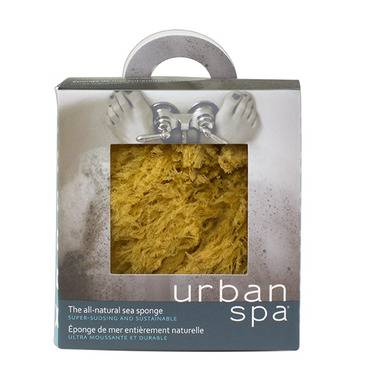 1 Count
Urban Spa Full Body Sea Sponge
is rated out of
5
by
22
.
---
Description
Soft, absorbent and durable, sea sponges turn soap and body wash into a foamy, luxurious lather that's perfect for the bath and shower. Unlike most sponges, the Full Body Sea Sponge is unbleached so it retains it's natural color and lasts longer. Urban Spa's sponges are renewable resources that are sustained through responsible harvesting practice.
Each sponge measures approximately 5 in.
Highlights

Rated

2

out of

5
by
Stephanie
from
I was disappointed by the size of this sponge when it arrived. It was also much rougher than I expected. I suppose if you are looking for a small, exfoliating sponge this is ideal but I was hoping for a large, extra soft one. Also, there were quite a few 'inclusions' (possibly coral?). Overall it just wasn't what I was looking for.
Date published: 2014-01-22
Rated

5

out of

5
by
Karen M.
from
Size and firmness were great!
Besides this sponge or going to a southern state or country to buy a natural sea sponge directly, this is the only sea sponge that I ever buy. I like it because it actually has enough texture to have mild exfoliation for my body, instead of other sponges that are so soft they do nothing to wash my body. This sponge was also a great size; it fit well into my grasp.
Date published: 2020-03-12
Rated

1

out of

5
by
Weronika
from
This is a horrible product. It is very rough; doesn't soften enough when wet. It is also cut in such a way that it's starting to fall apart after one use! I strongly do not recommend this; it's a waste of your money and effort. If I could give 0/5, I would!
Date published: 2016-01-25
Rated

5

out of

5
by
Arlene
from
I've cut this sponge into 4 smaller pieces so that I can use it for my face and I love it. It lathers well, it's gentle but also has a slight exfoliating ability which I appreciate and need. It dries quickly, never smells and so far has lasted me a long time so it's great value too.
Date published: 2016-07-02
Rated

5

out of

5
by
morgane
from
Great product! You can smell it comes directly from the sea (it has this sea salt smell that I love). It does a great job at exfoliating your skin and when you need a new one, you just put the old one in the compost bean.
Date published: 2011-06-15
Rated

4

out of

5
by
Sherry
from
Really like this product, I enjoy the "scrub" of the sponge, it isn't sloppy or too soft. My only complaint is that it tends to shed small pieces with each use, which tells me it won't last too long, and for the price it is rather disappointing that this happens.
Date published: 2014-02-19
Rated

5

out of

5
by
Melanie
from
I like this sponge, its the first sea sponge Ive used and it works great for my all natural body wash which was having a hard time lathering in a washcloth. This is a bit more abrasive than i'm used to but not too bad, anything exfoliating makes my sensitive skin with eczema break out but ive had no problems with it.
Date published: 2013-08-28
Rated

5

out of

5
by
JC
from
Love this sponge
I've tried other sea sponges and not been happy with the shape or texture or price. Maybe I just got lucky but the one I received is a perfect size, shape, and texture. It has a softer feel to it than most I have tried, but so far it is also standing up well to a lot of use.
Date published: 2021-08-07