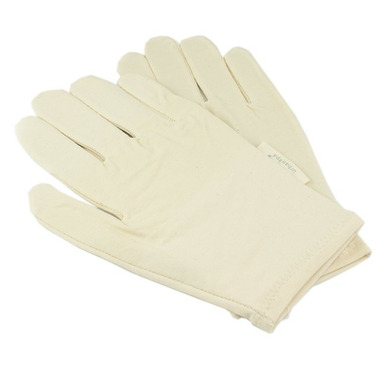 1 Count
Urban Spa Moisturizing Gloves
is rated out of
5
by
78
.
---
Description
Treat yourself to a spa manicure - in your own home! These unbleached cotton gloves seal in the moisture from your favourite hand or nail treatment, leaving your hands smooth and soft. Before retiring, apply your favourite hand cream, slip on the gloves, and awake with softer hands!
Highlights

Rated

4

out of

5
by
Jbrook
from
Work as expected
The glove are made of a dense soft fabric, and were the right length for my fingers. (I usually wear a medium to large size glove.) The gloves fit snuggly, which is exactly what I was looking for. Now in my mid-thirties I suddenly have dry skin, just like my mother. She had always had a pair or snug cotton gloves on her night stand, she would moisterize her hands heavily and then put on her gloves and would always have beautiful hands despite all the washing and gardenening she would do. I've only been using the gloves for a few weeks, but the skin on my hands is much better, and I'm looking forward to further improvement as I continue to use them.
Date published: 2020-10-29
Rated

5

out of

5
by
Chris
from
These gloves assist greatly with a skin condition. They wear well, are pure cotton but form fit to allow performing even delicate work with ones hands, including typing, writing etc. I use them as a liner inside rubber or leather gloves for yard and house chore work, to protect my skin from substances in those other gloves that may otherwise irritate my skin. As the gloves age, I use them on their own for yard work and house chores, then simply wash them. They breath well so moisture is not trapped and help against one's skin.
Date published: 2011-10-11
Rated

5

out of

5
by
Mary
from
After reading all the reviews on this product I must admit I was a bit hesitant to buy them, but I did. And I am really happy that I followed my gut feeling ! The gloves are well made, fit my average hands and best of all after only one night, I woke up to the softest hands ever. Spoil your hands all night with these gloves and your favourite hand cream ( I use Vaseline) and wake up to soft and silky hands ! Wish they made socks like this.....
Date published: 2016-07-29
Rated

3

out of

5
by
Dda
from
Bought these before
I bought these before because I work somewhere that requires me to wash my hands very often. My hands have become so dry and have aged quite a bit. I wanted to pick up a couple more so I can wear them every night. These are good but they are very tight around the fingers for me and this time one of them actually had a tiny hole at the seam. This would probably only fit well if you had very slim fingers.
Date published: 2020-10-16
Rated

5

out of

5
by
Amélie
from
Love these! I have eczema on the top of my hands, and use them every night after applying my treatment and cream. They are a perfect, smug fit and very comfortable. Since I use a lot of very thick zinc oxide based paste, I need to wash them after a single use though. So I ended up needing to buy a pair for every day of the week to prevent the cream from seeping through (and avoid having to do laundry every day).
Date published: 2011-08-09
Rated

2

out of

5
by
Victoria
from
I found these to be too tight. Well they fit perfectly but if your hands are moisturized the snug fit will push the cream on your fingers down, so you end up with no cream on your fingers and more between your fingers and top of your palm. So if your finger tips are especially dry and need the moisture these gloves won't work. At least they didn't for me, I ended up throwing them out.
Date published: 2018-04-24
Rated

5

out of

5
by
Irmgard
from
After trying several night gloves I am very happy with this type of gloves! They are verysoothing over the nightcream justa little too snug, rub over the ointment to drive it away from the finger tips!! But stretch a bit to fit the hand and are comfortably warming the hands for the whole night! Very comfortable to wear! I am very happy with them! I bought two pairs for mSelf and one for my daughter!
Date published: 2018-10-14
Rated

5

out of

5
by
Claire
from
These little gloves are absolutely wonderful for dry hands. Cream your hands, insert into gloves, sleep the night and wake up with beautifully moisturized hands. The moisturizing cream effect is multiplied many fold by wearing the gloves. I always have a spare pair...they do need to be replaced occasionally, washing cream out of them can only be just so effective. :) Highly recommended.
Date published: 2015-01-08