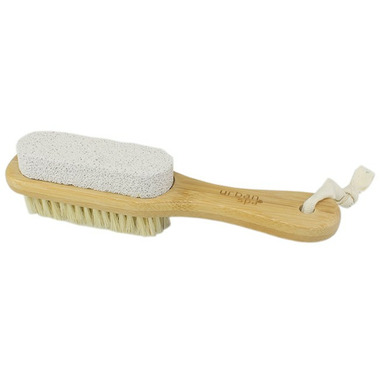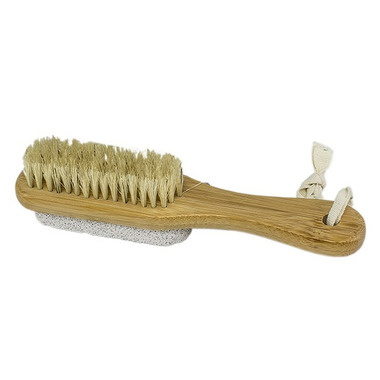 Urban Spa Pumice Stone Exfoliator
is rated out of
5
by
12
.
---
Description
Treat your hard-working feet to a much needed pampering with this natural pumice stone. Pumice exfoliates the skin of the feet, getting rid of any rough or hard areas. Great for removing calluses too.
Highlights

Rated

3

out of

5
by
Melissa
from
I bought this particular product for my boyfriend because as a performer, he is constantly on his feet! When he comes home, they are definitely in need of some heavy-duty exfoliation! The pumice stone has worked well so far, leaving not only his soles, but the sides of his feet smooth and soft. I also like the handle for added comfort, although I think I would have preferred a plastic handle, as opposed to wood since the wood does get wet, if you're using it while in the bathtub. I also wish the suction actually held up, but that is a small inconvenience. Overall, not a bad product. A few tweaks are needed for optimal use, but I'd probably buy one again.
Date published: 2012-09-06
Rated

1

out of

5
by
Margaret
from
A little disappointed in this product. On the FIRST use, part of the stone crumbled off (half) leaving sharp edges. I have had a pumice stone for years and thought of getting a new one. This was not a good replacement.
Date published: 2014-08-20
Rated

1

out of

5
by
Naomi
from
The suction seemed so handy, but it came loose on the side of the shower and the whole thing fell apart when it hit the tub bottom. I never even got to try it. The wood cracked and the pumice stone fell out.
Date published: 2012-02-06
Rated

1

out of

5
by
Allison
from
Stone fell off the handle on second use. And the bristles on the other side, which you can't see in picture, come off in clumps. Definitely look at another product if you're looking for this kind of thing.
Date published: 2015-03-24
Rated

2

out of

5
by
Jessie
from
It's more ergonomic to use the pumice stone with the handle, but the stone came off my brush after two uses. It's still a good price, but I wouldn't buy this one again for my purposes.
Date published: 2011-03-09
Rated

5

out of

5
by
Jay
from
Been using it for about 3 weeks and so far it's doing its job very well. Can't beat the price for it either. As others have mentioned the suction cup is useless, but you can just hang it somewhere with the rope to dry. Also, it has a brush/bristles on the reverse side which you cannot see in the picture.
Date published: 2013-10-22
Rated

5

out of

5
by
Ioanna
from
My husband works outside and with a new baby 2 home im doing everything i can to keep his skin as soft and as clean as possible. His hands are always in the dirt. Love this product for him. Its nice to see his hands clean after a shower and the dirt removed from under his nails. nice product
Date published: 2012-06-29
Rated

4

out of

5
by
Catherine
from
So far the stone has remained firmly on the handle. It's a lot easier to use than the stone alone. That was the purpose for my purchase. The bristles have started to shed. As others have mentioned, the suction cup does nothing.
Date published: 2016-04-27