Vaseline
Vaseline Intensive Care Dry Skin Repair Lotion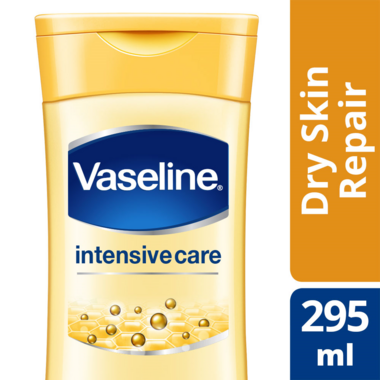 Vaseline
Vaseline Intensive Care Dry Skin Repair Lotion
295 mL
Vaseline Intensive Care Dry Skin Repair Lotion
is rated out of
5
by
194
.
---
Description
Vaseline® Intensive Care® Dry skin repair Lotion provides fast absorbing moisture to give you deeply moisturized, healthy-looking skin. Clinically proven to keep dry skin healed for 3 weeks, it's a body lotion you can count on. Proven after 4 weeks daily use in a clinical study.

Every day, your skin is exposed to damaging environmental factors like extreme temperatures, low humidity, harsh cleansers and hot water that can cause dry skin. This is why Vaseline® body lotions are designed to penetrate the surface layers of skin to heal dry skin, not just provide temporary, superficial relief. Vaseline® Intensive Care® Dry skin repair Lotion is formulated with a special blend of glycerin, a humectant that draws moisture to the skin, and Vaseline® Jelly, which locks in moisture. Its deeply moisturizing formula provides effective, long-lasting skin hydration. With such nourishing ingredients, Vaseline® Intensive Care® Dry skin repair Lotion is the ideal daily body lotion for maintaining smooth, soft skin.

Vaseline® Intensive Care® Dry Skin Repair Lotion relieves dry skin quickly by penetrating surface skin layers with its fast absorbing formula. Its light and non-greasy formula glides onto your skin to provide a clean, deeply moisturized feeling without the greasy feel. Ideal for when you want to get on with your day, this body moisturizer absorbs quickly, so you can get dressed within minutes of application.
Features:
Deeply moisturizes to heal dry skin
Keeps dry skin healed for three weeks*
Absorbs fast for a non-greasy feel
Ingredients
: Aqua, Glycerin, Stearic Acid, Isopropyl Myristate, Paraffinum Liquidum, Glyceryl Stearate, Glycol Stearate, Dimethicone, PEG100 Stearate, Petrolatum, Cetyl Alcohol, Tapioca Starch, Phenoxyethanol, Magnesium Aluminum Silicate, Methylparaben, Acrylates/C1030 Alkyl Acrylate Crosspolymer, Parfum, Propylparaben, Disodium EDTA, Xanthan Gum, Stearamide AMP, Avena Sativa (Oat) Straw Extract, Titanium Dioxide (CI 77891).
Rated

5

out of

5
by
Doughty1004
from
Great results!
(This review was collected as part of a promotion.) When i started us in this my skin had been so dry. This winter has been super harsh on my skin. I have also been a bit more stressed and busy, resulting in me not doing the smaller things to take care of my skin. When I received this sample I was given the push i needed to give myself a little tlc. My skin was super soft and more hydrated by the end of a week. I would apply after bathing or showering. It was non greasy and fast absorbant, two things that I look for when buying any lotions. The scent was also more appealing than some others I have tried. Thank you! I look forward to continuing loving my skin.
Date published: 2017-03-30
Rated

5

out of

5
by
jennirabz
from
Great Lotion for my Parched Vacation Skin
(This review was collected as part of a promotion.) Having just come back from spending 8 days in a very sunny locations, with me stupidly falling asleep on the beach for the first time in my life, it's safe to say my skin has been nothing but parched since I came home. I'm very impressed with my results from this lotion so far. It soaks in quickly, it isn't sticky and it doesn't "scrape" off like other brands do. My skin is in full recovery mode and it is definitely being sped up with this lotion. My only complaint would be the smell it seems to have, it's not my cup of tea but I do have a sensitive nose so it may just be me!
Date published: 2017-03-20
Rated

5

out of

5
by
Beautystyler
from
Wonderful Hydration For Skin
This is hands down the best light weight cream ever! It smells amazing it doesn't have a strong smell, and its super hydrating it doesn't feel thick or oily on your skin, its the perfect consistency for your skin. I have very dry skin and after trying out this product for the first time I could really feel my skin is hydrated and it didn't feel greasy or heavy! Absolutely love it! I would totally recommend this to everyone.
Date published: 2017-03-26
Rated

3

out of

5
by
Karen11
from
Horrible pump
I have used your product body lotion for as long as I can remember. That's why I felt it necessary to comment on your new "pump". Hands down the worst decision you have ever made. Not only does it add more plastic into existence which is completely not necessary, it is difficult to tell which end the lotion will come out unless there is residual lotion stuck to the outside. Why did you do this? Easier to use? Absolutely not! Why are you increasing plastic packaging? Did someone think that this looked good? It doesn't. I will go out of my way to buy other brands that don't feel it necessary to use MORE plastic in their packaging.
Date published: 2019-12-25
Rated

1

out of

5
by
bcheng81
from
The New Dumb Pump!!!
Genius. Just GENIUS. My lotion routine is at bedtime, and I like to sleep in the dark like normal people. Unlike this cap designer who clearly assumes that everyone uses lotion in broad daylight. I have to leave the lights on every time I apply lotion just to see where it might come out. And sometimes I still get it wrong because there is no arrow indicator. I hope the designer of this god-awful pump cap is fired, and whoever approved of his/her design please have your life priorities re-evaluated because clearly you have no idea of the amount of stress I have every time I use it due to worrying which direction the lotion will come out from.
Date published: 2019-04-10
Rated

1

out of

5
by
LP321
from
Smart Pump = Useless
I have used Vaseline Intensive Care lotion for years but the Smart Pump isn't Smart. Oh, it is easy to use while new but I was left with about a quarter of the bottle when the pump would no longer pump. The cap does NOT screw off and I finally took a box cutter and sliced off the top of the bottle, then tipped it upside down in a container to drain the bottle so I could get most of what I had paid for. Sorry, won't buy this style of bottle again and since it is usually the most economical way to buy it will probably have to find another product.
Date published: 2021-02-14
Rated

5

out of

5
by
Mike
from
Provided relief for extra dry skin
I have suffered with extremely dry skin on my back for a few winters now. I have tried many lotions that claim to provide relief, but NONE of them have worked as well as Vaseline Intensive Care Dry Skin Repair. My wife found this "new" product in January. It is applied generously after a shower and does not have to be reapplied the same day. I am sleeping much better each night. Thank you Vaseline for continually improving your products.
Date published: 2015-02-08
Rated

5

out of

5
by
Jlindsey151
from
It REALLY WORKS!!!
I've battled dry skin for years with very little success in a reasonably priced product. I saw the commercial and didn't give it another thought until I went through the checkout at my pharmacy and there was a bottle on the counter as a demo. At two dollars, it would be no big deal if it failed to deliver, BUT IT WORKS!!! My skin feels moisturized all day, not oily and I'm not dry, itchy flaky and constantly scratching. I'm IN LOVE with this product! Please, never discontinue it and make me start my search again.
Date published: 2015-02-16