Veeda Natural Cotton Ultra-Thin Night Pads
12 Unscented Pads With Wings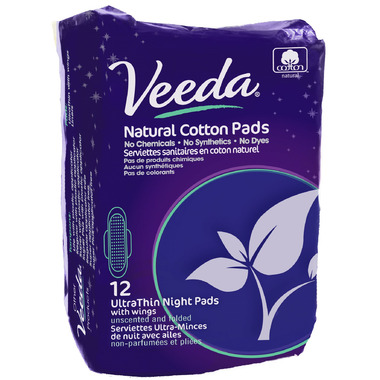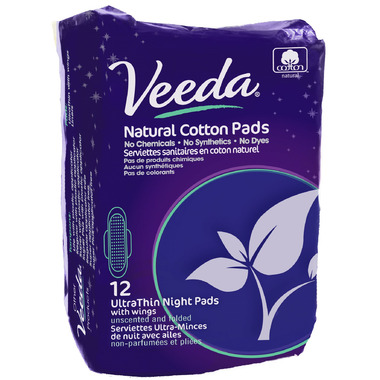 Veeda Natural Cotton Ultra-Thin Night Pads
12 Unscented Pads With Wings
Veeda Natural Cotton Ultra-Thin Night Pads with super absorbency are soft, channeled to absorb the flow, and have an "invisible" body-hugging fit, plus feather-soft wings for worry-free protection.

Sleep On!
Now you can say UltraThin and Night Pads in the same breath! Whew, finally a comfortable pad you can trust to work so you can get an uninterrupted night's sleep.
Put your worries to rest with Veeda pads, designed to contain your flow with maximum absorption and without the harsh chemicals or synthetic materials with irritating allergens. They're so form-fitting, you won't lose a wink of sleep worrying about spillover! Veeda pads are specifically designed for heavy flows and overnight use, letting you sleep with worry-free protection through the night.
Features
:
Pure 100% natural cotton "silk soft" covers
No chemicals, no dyes - period
Hypoallergenic, fragrance free, totally chlorine-free and non-GMO
Body-hugging UltraThin "invisible" pads are contoured to move with you
Secure stay-put design so your pad doesn't bunch up
Furrowed channeling to trap liquid (panty-saver!)
Feather-soft wings for freedom from worry
Individually folded and sealed in quiet wrapping
Dermatologist tested
Oxo-degradable packaging


Ems:
a few months ago
I bought these pads for postpartum bleeding when, after a couple weeks of using drugstore pads, I was seriously itchy and irritated. These were great! Nice cotton cover, decent adhesive, long enough to be reliable, and not at all irritating to my skin. I ordered more right away, and anticipate using them regularly when my period returns. Because my postpartum bleeding was moderate to light, I can't attest to how they'd hold up for regular menstruation, but they worked very well for my needs.
Page
1