Vega One All-In-One Mocha Nutritional Shake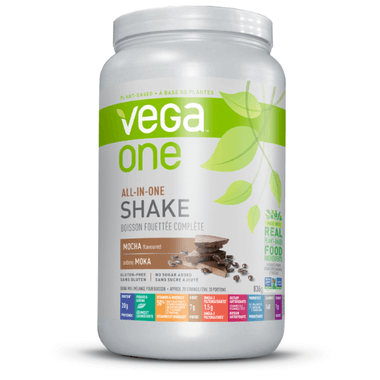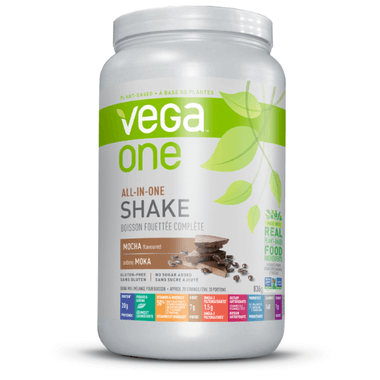 Vega One All-In-One Mocha Nutritional Shake
Good for your body and the planet, Vega One Nutritional Shake is the clean, plant-based choice to fuel your healthy, active lifestyle without compromise. Formulated by Brendan Brazier, professional Ironman triathlete and bestselling author on performance nutrition, Vega One Nutritional Shake is free from dairy, gluten and soy, and contains no added sugar, artificial flavours, colours or sweeteners.
Features:
20g Premium Protein Blend
6 Servings of Greens
50% RDI Vitamins & Minerals from fruits and vegetables
25% daily intake fiber
1.5g Omega
3. 1 billion CFU probiotics
Antioxidents
160 calories
Gluten free
Directions: Mix one level scoop of Vega One Nutritional Shake in 1-1.5 cups (250-375 mL) of ice-cold water, juice or non-dairy beverage, shake well and enjoy.
*Percent Daily Values are based on a 2,000 calorie diet. Your daily values may be higher or lower depending on your calorie needs.

Ingredients: Pea Protein, Whole Flaxseed (Micro-Milled), Cocoa Poweder, Organic Acacia Gum (Naturally Occurring Fibre), Hemp Protein, Saviseed (Sacha Inchi) Porotein, Organic Gelatinized Maca Root, Organic Broccoli, Organic Spirulina, Organic Kale, Organic Marine Algae Calcium, Fruit & Vegetable Blend (Spinach, Broccoli, Carrot, Beet, Tomato, Apple, Cranberry, Orange, Blueberry And/Or Bilaberry, Strawberry, Shiitake Mushroom), Chlorella Vulgaris (Cracked Whole Cell), Papaya Extract, Beet Root Poweder, Antioxidant Fruit Blend (Grape Seed Extract, Organic Pomegranate, Acai, Mangosteen, Organic Goji, Organic Maqui), Natural Chocolate Flavour, Natural Vanilla Flavour, Natural Caramel Flavour, Natural Hazelnut Flavour, Stevia Extract, Citric Acid
Natural, Non GMO, Gluten Free, Vegan