VitaJuwel Wellness ViA Glass Water Bottle
Amethyst, Rose Quartz, Clear Quartz
500 ml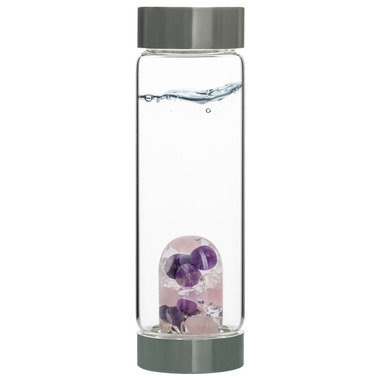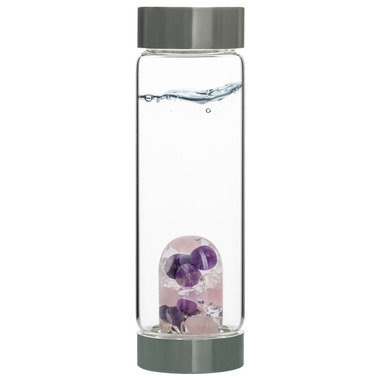 VitaJuwel Wellness ViA Glass Water Bottle
Amethyst, Rose Quartz, Clear Quartz
500 ml
- We're sorry, this product is no longer available!
- Shop for other products in: All Water Bottles

Placing crystals in drinking water uses crystal energy to restructure the water and charge it with negative ions, which are believed to increase levels of the mood chemical serotonin, helping to alleviate depression, relieve stress, and boost your daytime energy.
The well-balanced composition of crystals in the ViA Glass Water Bottle has already been used for several hundreds years to restructure water by countless people all around the world. Experts claim that amethyst stimulates the mind and soothes emotions. Rose quartz fosters tranquility and harmony. Clear Quartz is a stone for clarity and perception. As a combination, they're used for their wonderfully invigorating effect.
GemWater prepared with this harmonic blend is the best "everyday water". Most customers find it to taste smooth and mild. If you're unsure which VitaJuwel blend is the best to start your collection, then choose this one.
Your VitaJuwel ViA is your companion for gem water on-the-go. The exchangeable gem pod on the bottom of the bottle can just be screwed off. That way you're able to always have your favorite gemstone blend with you. Cleaning the bottle is as easy as 1-2-3: Simply twist off both the lid and the gem pod and rise with water. VitaJuwel ViA consists of lead-free glass and holds a generous 500ml.
Features:
Amethyst, rose quartz, and clear quartz are calming, balancing, and relaxing
Fair Trade minerals & gems
Easily create structured water on-the-go!

Inspired by the wonders of nature

Designed in the Alps and hand blown in Europe
Bottle unscrews at the bottom for easy cleaning and simple changing of the gemstone pod

Help save the environment by using this refillable glass bottle
This Gem accessory is your very own piece of jewellery for your water. Enjoy!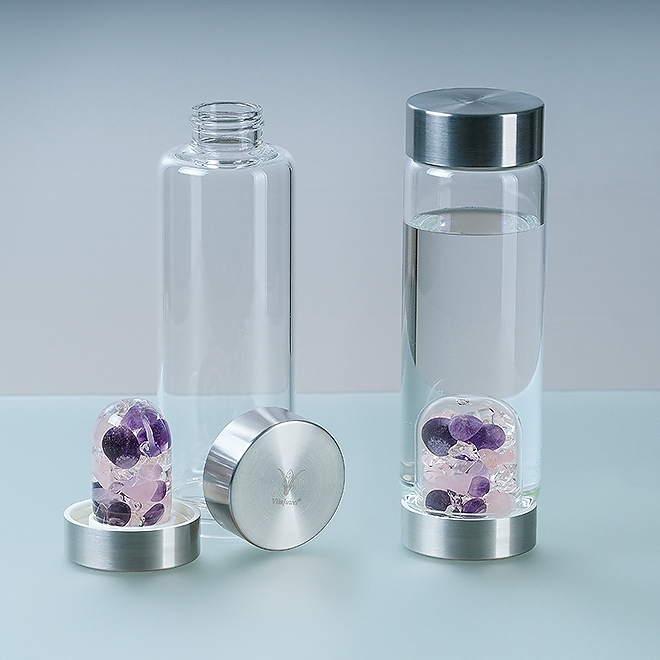 Change your gemstone mixture in seconds with the innovative gemstone pod. VitaJuwel ViA already comes with one interchangeable pod. Discover a fascinating variety of other available mixtures. Have a "Love" ready or prepare yourself "Luna" after dinner...