Webber Naturals Vitamin D3, 400 IU
BONUS! 50% More
180+90 tablets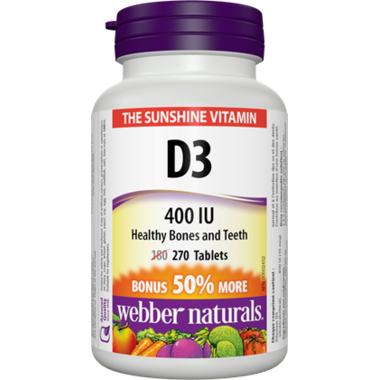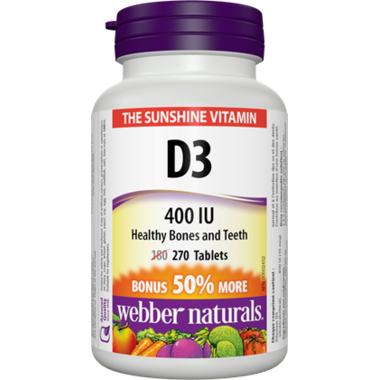 Webber Naturals Vitamin D3, 400 IU
BONUS! 50% More
180+90 tablets
Vitamin D3 helps the body incorporate calcium into the bones, boosting bone mineral density. Vitamin D-related bone thinning is common among the elderly, those with dark skin, people don't go outside often, or who wear clothing covering most of their skin. Supplementation can support bone health and enhance immune function.
Benefits:
400 IU of vitamin D3
Small tablet size
Flexible dosing, 1–2 tablets daily (adults)
Free of artificial colours, preservatives or sweeteners;
no dairy, sugar, wheat, gluten, yeast, soy, egg, fish, shellfish, salt, tree nuts or GMOs. Suitable for vegetarians. Canadian brand.

Directions:
Recommended dosage (adults): 1–2 tablets daily or as directed by a physician.

Ingredients:
Each Tablet Contains:
Vitamin D3 (Cholecalciferol) 10 mcg (400 IU)
Cautions:
Keep out of reach of children