Weleda
Weleda Sage 12 Hour Deodorant Spray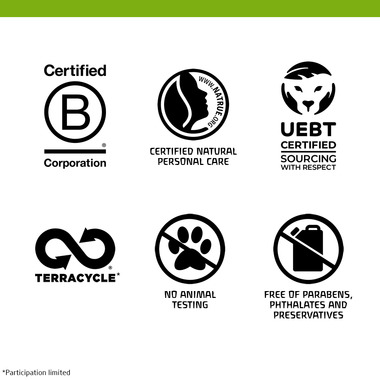 Weleda
Weleda Sage 12 Hour Deodorant Spray
100 mL
Weleda Sage 12 Hour Deodorant Spray
is rated out of
5
by
41
.
---
Description
Weleda Sage 12 Hour Deodorant Spray refreshes the skin and eliminates unwanted bacteria. The refreshing, herbal fragrance of organic sage extract, along with essential oils of lavender, rosemary and thyme create an intriguing, long-lasting deodorizer. Free of antiperspirants such as aluminum salts. This is a non-aerosol spray.

Directions: Due to the natural formulation of Weleda Deodorants, you may apply them as often as needed throughout the day.
Features:

Certified B Corporation
Certified natural personal care
UEBT Certified
Terracycle
No animal testing
Free of parabens, phthalates and preservatives

Ingredients (INCI): Alcohol, Water (Aqua), Fragrance (Parfum)*, Ammonium Glycyrrhizate, Salvia Officinalis (Sage), Melaleuca Alternifolia (Tea Tree), Limonene*, Linalool*, Geraniol*, Coumarin*.

*from natural essential oils
Highlights

Rated

5

out of

5
by
C
from
A blessing for people with both scent and skin sensitivities looking for less chemical-laden products. I've been using Weleda's deodorant sprays for several years now and they've only been excellent thus far. Sage is my personal favourite because of its gentle and unisex-like scent. One of the best things about it is that even after a heavy-workout, the fragrance may mellow out slightly but it's still there, keeping you from becoming BO central. This is in contrast to several other 'natural' deodorants that I've tried over the years, they just don't cut the work-out trial, Weleda Sage's did for me!
Date published: 2016-02-09
Rated

5

out of

5
by
Leah
from
I have tried natural deodorants for a while and haven't found anything that worked until I tried this Weleda product. I use a magnesium stick in the evening followed by a few sprays of this product and then again in the morning. No smell, no spots on my shirts any more and I simply love the smell (also like the citrus one). I didn't think this was possible but am so glad I found this. I will never go back to conventional deodorants using aluminium. Thanks Weleda and thank you well.ca for bringing this awesome product to Canada.
Date published: 2016-07-30
Rated

4

out of

5
by
Dana
from
Both my husband and I use this and the citrus deodorants. The scent is neither masculine nor feminine. It does sting a bit after shaving but I will take a little sting over using any product with the very harmful aluminum in it. Lasts all day, for the most part, but on really taxing days, I might add a few refreshing spritzes in the afternoon. I have tried other natural deodorants, most of which did not work at all and one of which caused an itchy rash. I have no problems with this Weleda product. Highly recommend.
Date published: 2015-01-07
Rated

5

out of

5
by
Philip
from
This stuff is perfect. I bought the citrus at first, and decided to try this as well. Both scents are fairly unisex but I think the sage is more masculine, and I've given the citrus to my girlfriend (she loves it too). I use these because most popular deodorant sticks start to smell funky on me after a while (probably body chemistry), and I don't like antiperspirants.
Date published: 2013-08-26
Rated

5

out of

5
by
Alex
from
Have you ever been on and elevator where the sickly sweet perfumes are beyond annoying. This is the most non invasive scented deodorant on the market A pleasant faint sage aroma and the best part, the alcohol base reduces bacterial presence and bacteria generated body odder. So perspire all you want, Yahoo.
Date published: 2015-12-29
Rated

5

out of

5
by
Sandrine
from
I really like the smell of this deodorant (more than the citrus one). I haven't been using it lately because I'm breastfeeding and it contains alcohol and sage essential oil, but I plan to use it again later. All natural. No harmful chemicals, nor aluminium. Weleda is one of the few cosmetics brand I trust!
Date published: 2017-02-10
Rated

5

out of

5
by
Brent
from
This is the best deodorant on the market it will last me all day! There is no residue on your clothing my body gets to sweat like it is supposed to and I smell good! That all goes for work and at play! Grade A number one!
Date published: 2010-04-17
Rated

5

out of

5
by
Amanda
from
This is one of my favorite deodorants. It very effective for my body chemistry. I can't use it when my underarms are sensitive, so if that's the case....it's perfect to spray on your clothes to keep you fresh!
Date published: 2019-02-06