Wet Ones
Wet Ones Antibacterial Hand & Face Wipes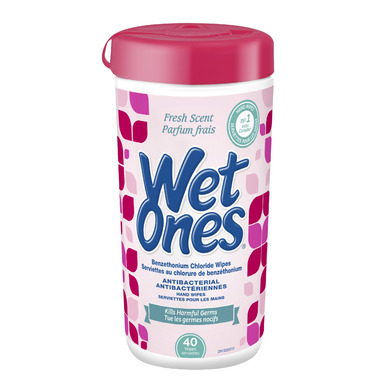 Wet Ones
Wet Ones Antibacterial Hand & Face Wipes
Fresh Scent
40 Count
Wet Ones Antibacterial Hand and Face Wipes
is rated out of
5
by
9
.
---
Description
Count on Wet Ones wipes for a quick and easy way to clean up and kill germs on hands and faces - anytime, anywhere! Mild antibacterial cleaning solution kills 99.99% of germs safely and effectively. Enriched with skin conditioning aloe. Thick and strong to handle tough messes. Light, fresh scent.
Rated

5

out of

5
by
Tricky141
from
Great for use in the car or stroller
I keep one of these in my car for quick wipes of surfaces, hands and faces. They don't have a strong smell and pull out easily from its container making it great for when I'm driving and kids at the back need to use them. I also keep one with my stroller while on the go with my toddler. Buy it when in stock!! They often sell out
Date published: 2020-07-11
Rated

5

out of

5
by
Sheba
from
Indispensable!
I love this product. I have been keeping the wet lock flat pack in my purse for years (doesn't take up much room) and when I need it, there it is. Except now. I can't find any Wet Ones products in stores and even my go-to online source is sold out. Please get some more wipes, especially if you can get them in the flat packs.
Date published: 2020-07-10
Rated

5

out of

5
by
Alissa
from
I love LOVE these. The container is perfect to keep in the cup holder in my car which makes them extra convenient. They are safe to use on faces and hands so I am constantly using them if I need to eat something or if I have a spill. They're also great for cleaning up after a passenger with a cold/flu has been in your vehicle.
Date published: 2011-09-08
Rated

5

out of

5
by
Frances
from
No,home should be without them! Especially if you've got little kids who are inclined to get grubby at the drop of a hat! Wonderful,in the kitchen and even the garage!
Date published: 2016-09-27
Rated

5

out of

5
by
Rob
from
These wipes are great to use any where. Home, boat, trailer, car etc. They are always moist and easy to access. Love them.
Date published: 2013-06-18
Rated

5

out of

5
by
Sandra
from
I drive for a living so I am always eating in my car. These wipes come in handy for a quick clean up of my face and hands!
Date published: 2017-07-29
Rated

5

out of

5
by
Penni
from
I keep this in my car to use when I am out shopping and I feel very secure that it is removing dirt and germs
Date published: 2014-11-08
Rated

5

out of

5
by
Hilda
from
it's very handy, use it after eating sticky stuff at my desk.
Date published: 2019-01-17