Wet Ones Antibacterial Hand & Face Wipes
Citrus Scent
40 Thick Moist Wipes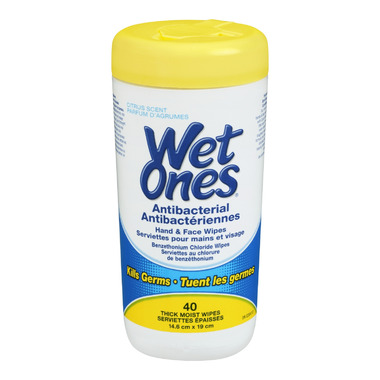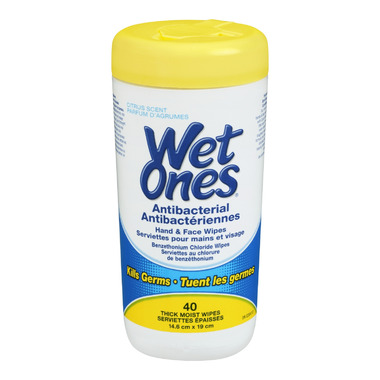 Wet Ones Antibacterial Hand & Face Wipes
Citrus Scent
40 Thick Moist Wipes
Count on Wet Ones wipes for a quick and easy way to clean up and kill germs on hands & faces - anytime, anywhere! Mild antibacterial cleaning solution kills 99.99% of germs safely and effectively. Enriched with skin conditioning aloe. Thick & Strong to handle tough messes. Refeshing citrus scent.
Frances:
more than a year ago
I keep Wet Ones handy in my kitchen, all 3 bathrooms, in the garage workshop, on my patio, and in my car. I even use them to wipe my feet after a day wearing flip-flops. Wish they came in purse-size packages - imagine having them on hand while eating in a rib or chicken restaurant. They're moist enough to take on the messiest hand or face cleanup jobs.
Kolyenka:
more than a year ago
It may seem odd to write a review for wet ones, but these are fabulous! The smell is much better than the wet ones with the red lid or blue lid, and we keep wet ones in our home, in our vehicles, and at work.
They're great for hands or faces, but they're also great for: wiping off keys when keys are dropped somewhere disgusting, wiping stains off clothing (rub and repeat and you'll be amazed), wiping dusty or grubby pet paws, cleaning cuts or scrapes in a pinch, scrubbing a particularly stubborn bug splat off your windshield, removing makeup, and getting ketchup off of sunglasses.

Not surprisingly, the yellow-lid wet ones are VERY hard to find in Edmonton, so we get our supply at well.ca.
Page
1