WetBrush
WetBrush Original Detangler Classic Black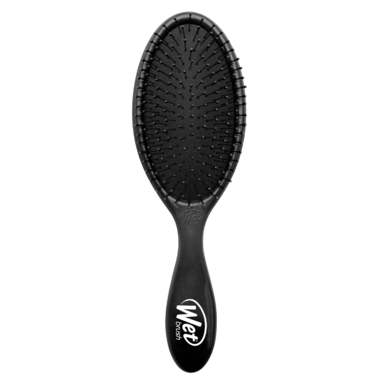 WetBrush
WetBrush Original Detangler Classic Black
Description
Effortlessly detangle wet and dry locks with the WetBrush Original Detangler. The rubber coated handle allows you to have a firm grip whilst brushing out tough knots and tangles, giving you smooth and sleek hair in no time.
The WetBrush's IntelliFlex® bristles are super thin, strong and flexible. These bristles will glide through any hair type combing out tangles effortlessly. The bristles' flexibility enables protective and pain-free detangling while the SofTips™ on the very top of the bristles massage the scalp to stimulate circulation at the follicle. They are firm enough to comb through knots, yet flexible enough to be gentle on the scalp. The IntelliFlex® bristles bounce back to their original form after each stroke eliminating all the hair breakage and pain that used to be associated with brushing your hair. The WetBrush can be used on wet or dry hair and works on extensions and wigs.

Ingredients
: polymer 58%, cushion is made of rubber 38%, bristles are made of nylon 3%, glue includes polyurethane 1%,and tips are polyurethane 1%.
98% Natural, Paraben Free, Phthalate Free and Never Animal Tested.