Yogi Tea Organic Roasted Dandelion Spice Detox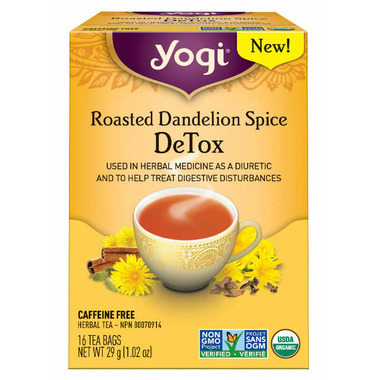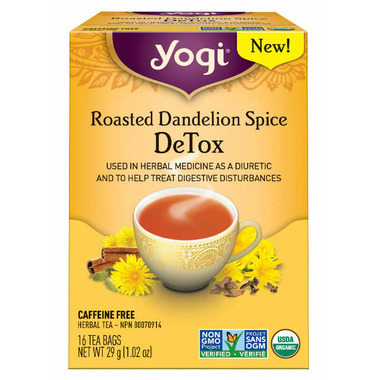 Yogi Tea Organic Roasted Dandelion Spice Detox
Yogi Tea Organic Roasted Dandelion Spice DeTox tea is purposefully formulated to support the body's natural cleansing processes with a combination of Dandelion; traditionally used by herbalists to support liver health, Cocoa Shell and Yogi's traditional spice blend. Enjoy a delicious cup of Roasted Dandelion Spice DeTox tea to help you feel refreshed and in balance! Caffeine- free herbal tea. Used in herbal medicine as a diuretic and to help treat digestive disturbances.
Directions:
To get the most out of every cup, bring water to boiling, cover and steep 10 to 15 minutes. For a stronger tea, use 2 tea bags. Enjoy 2 to 3 cups daily. For best results, drink regularly.
Ingredients:
Organic Roasted Dandelion Root 724mg, Organic Dandelion Root 380mg, Organic Burdock Root 380mg, Organic Cassia Cinnamon Trunk Bark 184mg, Organic Cocoa Shells 18mg, Organic Cardamom Seeds 18mg, Organic Clove Flower Bud 7mg, Organic Black Pepper Fruit 3mg.
Caution:
Consult a health care practitioner prior to use if you are breastfeeding or have liver or gall bladder diseases, diabetes and/or intestinal obstruction. To ensure an increase of the amount of urine, adequate fluid intake is required during treatment. Diuretic claim: For occasional use only. If symptoms worsen or persist beyond 2 weeks, consult a health care practitioner. Do not use if you are pregnant or allergic to plants of the Asteraceae/Compositae/Daisy family or have heart disease, high or low blood pressure, kidney or liver disorder or edema (swelling of hands, face and feet) or are taking products containing diuretics. Stop use and seek medical attention immediately if you experience dizziness, confusion, muscle weakness or pain, abnormal heart beat and/or difficulty breathing. Hypersensitivity/allergy is know to occur, in which case, discontinue use.