YoungLUX Bamboo Fibre Cups
YoungLUX Bamboo Fibre Cups
is rated out of
5
by
9
.

- Max: 6
- We're sorry, this product is no longer available!
- Shop for other products in: Sippys & Cups

Bring functionality and style to your kids tableware with this set of 4 beautifully designed, eco friendly, square bamboo fiber cups. Each featuring a unique monochrome pattern in natural bamboo and matte black. Offering today's modern and eco conscious families a stylish and minimalist alternative to the plastic, multi coloured and gender defined sets!

Features:
High Quality

Durable

Stackable for easy storage

Stain Resistant

Light Weight

Dishwasher Safe

Coordinates with YoungLUX Plates

Benefits:

Made from Bamboo Fiber

Non Toxic

BPA, PVC & Phthalates Free

Sustainable & Biodegradable Material

FDA & LFGB Food Safe Approved

Designs: Swiss, chevron diamond and triangle
Cup Dimensions: 48 x 25 x 31


Please Note: Cups are not for microwave or oven use.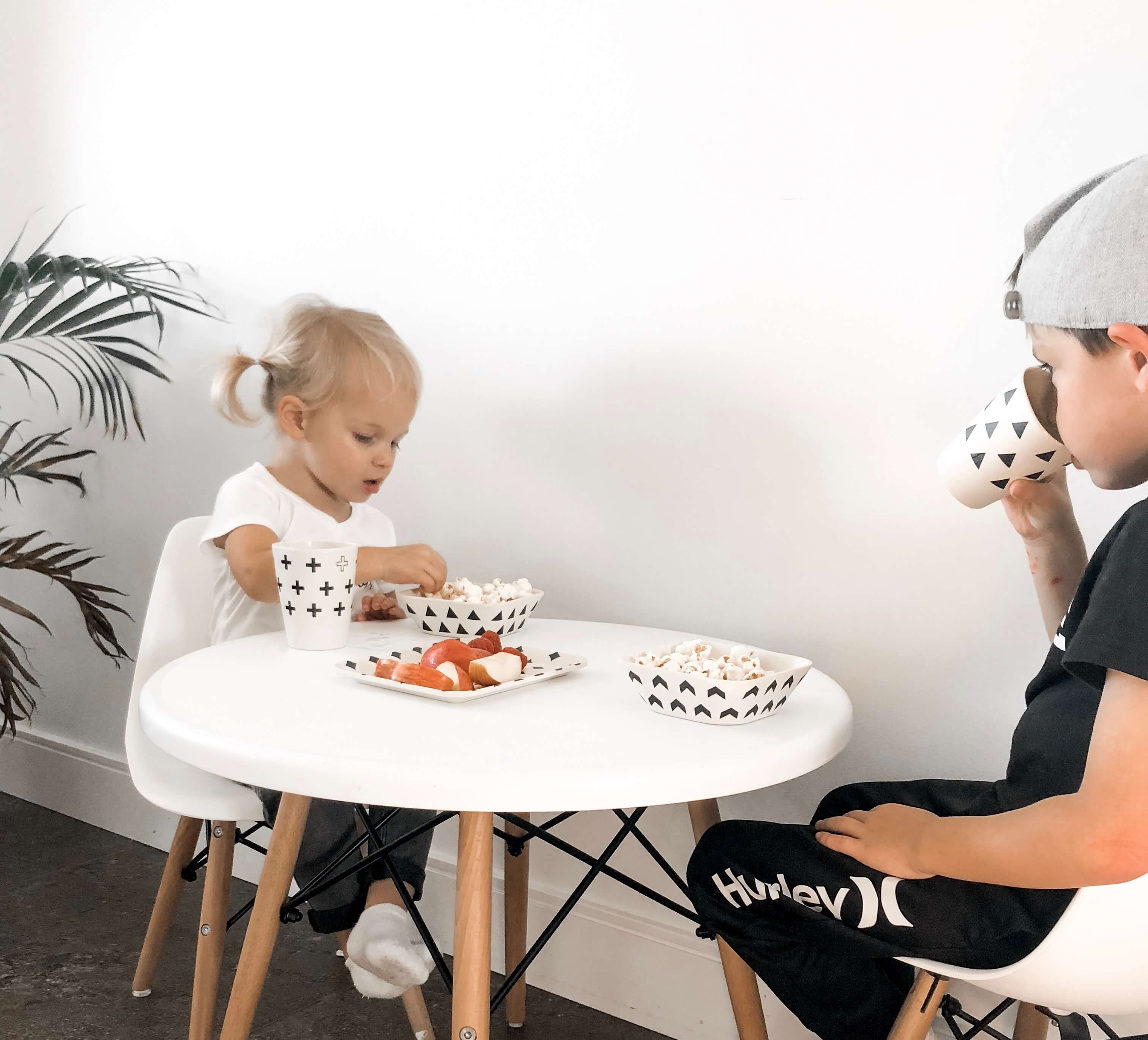 Similar Baby Dishes, Cups & Bibs
Rated

1

out of

5
by
Meg
from
Super Disappointing
I wanted to love these so badly. I bought two entire sets of four (dishes, bowls and cups). I had to have 4 cups replaced because they cracked on the inside corner. That wasn't even a year ago and so out of 12 cups, one is still standing. My kids aren't ones to throw or mistreat their tableware, I think they should not advertise as dishwasher safe, as that was super important to me. I can't hand wash everything my kids use, I just don't have the time. Really not worth the price, sadly.
Date published: 2020-05-18
Rated

5

out of

5
by
Jen
from
Beautiful and amazing quality
I have the full tableware set and am so happy to have the cups to match! The quality is amazing and unlike anything you'll see available for kids elsewhere. I put these in the dishwasher everyday and have had 0 issues. I would 100% recommend!
Date published: 2020-06-08
Rated

1

out of

5
by
viv
from
very disappointed
after using for 6 months, one cracked from dropping, and one had mold inside seeped through the material that cannot even be washed away. I think there are pores on the surface that's why mold start growing inside the cup...
Date published: 2020-04-29
Rated

1

out of

5
by
Meg
from
Super Disappointing
Should not say dishwasher safe. I had 12 cups a few months ago and I have one standing. They all cracked on the inside corner. Not worth the price. I wanted to love this so badly.
Date published: 2020-05-18
Rated

5

out of

5
by
Alain
from
These are simply the best. I've had them for over a year now, and love them like day 1. Not only are they super stylish, but their size is perfect for my little one. They still look new, even after a daily usage, and despite what they say on the.box, I dishwash mine with no apparent issue. True, price a little steep, but given that it's probably the last and only toddler set you'll need to buy, its in hindsight, totally worth the price!
Date published: 2019-04-10
Rated

5

out of

5
by
Nix11
from
Perfect cups for our littles
We bought the cups along with the bowls and plates. Perfect set! Cups feel good in hands and the size is great for our 2, 4 and 6yr old. Plus, NO plastics is important to us. Simply bamboo. No staining (blueberry smoothies etc) & wash easily. We've had them for 2yrs and they're still good as new. Stylish & modern. Love them. Won't buy another kind of children's dishware, as this company ticks all the boxes for me.
Date published: 2020-06-06
Rated

5

out of

5
by
KP
from
Im in love with all younglux products! Since I have the cups my girls refuse to use any others. They are a perfect size and I love that I can throw them in the dishwasher! I love the 4 unique patterns.
Date published: 2020-06-06
Rated

5

out of

5
by
Lindsay
from
Lovely Cups
My toddler has been using these cups for months, and they are great! I was originally concerned because I read about them cracking - I tend to hand wash them, and haven't had any issues.
Date published: 2021-01-30