Yumbox
Yumbox Original Bijoux Purple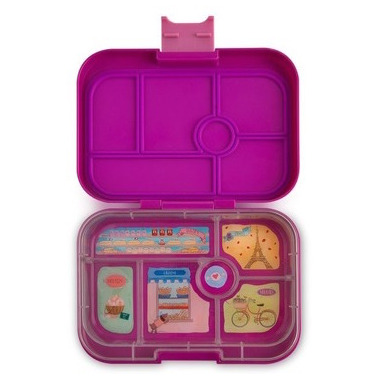 Yumbox
Yumbox Original Bijoux Purple
Description
Yumbox original leakproof design six compartment Yumbox is specifically designed for little kids that like variety and might be tired of same old sandwich in their packed lunch. Pack a healthy mix of their favorite foods and make packed lunch something to look forward to.
Dimensions: 8.5 (l) x 6 (w) x 1.8 (h) inches and weighs 1 lbs 1.5 oz.
Yumbox is dishwasher safe. Top rack only. Hand washing the outer shell and/or removing it before the heat dry cycle is highly recommended.
This product is excluded from any special promotions or coupons.
Features
PRACTICAL LEAK PROOF DESIGN: Yumbox Original is designed to make your packed lunches easy and delicious. Molded silicone lined lid engages with the tray, making Yumbox leakproof inside and out (*not water*). Pack dips next to crackers with no worries. One easy open latch makes Yumbox a perfect lunchbox or snack box even for toddlers. The removable compartmentalized bento tray is divided into 5 food wells plus dip section, each sealed independently by one lid.
PERFECT HEALTHY PACKED LUNCH: YUMBOX is a winner of Good Design Award for a Children's Product. Yumbox makes it so easy to make your packed school lunches look appetizing, colorful and organized. It also makes portion controlled meals easy to prepare.
Fits Standard size Lunch bag (see Bags). Keep contents cool with Yumbox Ice Packs.