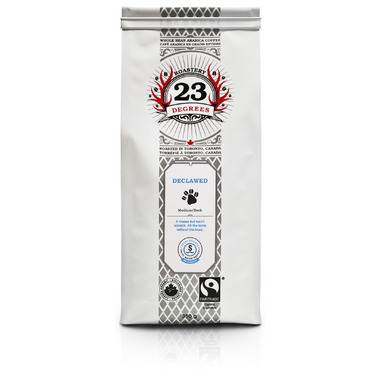 Description
It hisses but won't scratch. A full-bodied coffee with winey, wild berry undertones, and a smooth finish. All the taste without the buzz.

As cat lovers, 23 Degrees wanted to find some way to incorporate their fondness into one of their blend names. What better way than to describe their decaffeinated coffee? Many 23 Degrees patrons claim that they can't tell the difference between regular coffee and this decaf, because it retains all the best features – just without the caffeine. For when you want the experience without the palpitations, this blend steps up to the plate and delivers.

23 Degrees Roastery uses Arabica coffee beans that are certified Organic and Fair Trade. These beans are decaffeinated using the Swiss Water Process and are 100% chemical free.

Highlights

Shipping & Returns