3M
3M Transpore 1 Inch Surgical Tape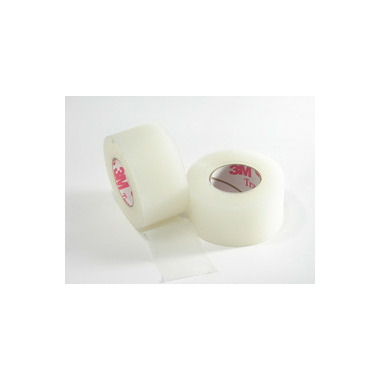 3M
3M Transpore 1 Inch Surgical Tape
12 Count
3M Transpore 1 Inch Surgical Tape
is rated out of
5
by
7
.
---
Description
This plastic tape is transparent, perforated polyethylene film with easy bi-directional tear, strong adhesion, and is hypoallergenic. It allows visualization of the skin. Transpore tape is easy to tear into very thin strips and is easy to use even with gloves. For securing tubing and dressings that need to be monitored.
1 inch by 10 yards.
Shipping & Returns
Unfortunately, due to the nature of this item, we cannot accept any returns.
We are only able to ship this item to Canadian customers.
Click here for more information
Rated

5

out of

5
by
Al
from
Absolutely the best medical tape there is. My wife suffered a severe leg injury that required daily dressing. She also has extremely sensitive skin that tears easily. We were unable to use any other tape, making the daily dressing and holding the bandage almost impossible. Our Pharmacist suggested we try this tape, and we have used it exclusively since with no discomfort applying or removing, and it holds securely. We are totally impressed with it and recommend it for any medical application.
Date published: 2013-10-17
Rated

5

out of

5
by
Jo
from
I bought this product because I had read somewhere that it is great in preventing chafing for long distance runners, and I wasn't disappointed. It is water and sweat resistant, so it stays in place until it is pulled off. It is much more economical than other anti-chafing products I have tried as one box is a long lasting supply. I'm sure I will find many other uses for this tape.
Date published: 2013-05-23
Rated

5

out of

5
by
Walter
from
I don't actually use it for medical purposes, but for it's fantastic workability and easy of use to be torn in straight lines even the length of the tape as needed. It holds to most surfaces but not too tightly that it can not be removed and repositioned, so I use it a lot in art work for holding photos and sketches and any light weight use I would use ordinary Scotch tape for.
Date published: 2014-10-21
Rated

5

out of

5
by
Daniel
from
This is the best adhesive tape to use to secure wound bandages. I've had one on my leg that is slow in healing and requires changing dressings every day. Buying it in a case of 12 makes it very economical. $1.50 per roll.
Date published: 2017-11-09
Rated

5

out of

5
by
Jude22
from
3M Transpore tape
This tape is the best. I use it to tape my compression leg wraps. Only tape that holds the wraps in place. So good that you don't have to use scissors, you just tear it.
Date published: 2021-06-06
Rated

5

out of

5
by
S
from
This is really the only tape that'll hold dressings properly. It's super sticky and resembles the kind that the nurse would stick over a cotton ball on your arm after a blood test.
Date published: 2014-01-14
Rated

5

out of

5
by
Dundee
from
great adhesive
buying in quantity (ie: box of 12) better than buying individual rolls
Date published: 2020-01-09