ACET Acetaminophen Suppositories
2 to 4 Years
12 Suppositories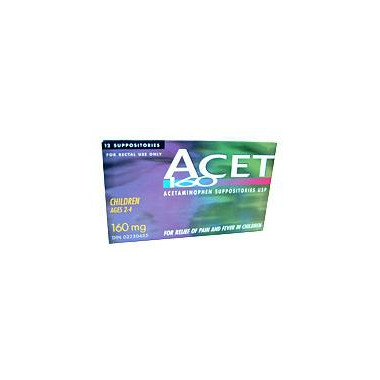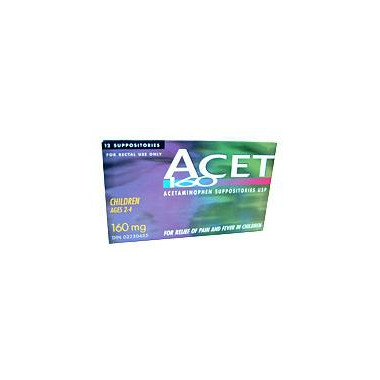 ACET Acetaminophen Suppositories
2 to 4 Years
12 Suppositories
For relief of pain and fever in children.

Analgesic and antipyretic

INDICATIONS: For relief of mild to moderate pain, and to reduce fever.

Children 2-4 years: One suppository (160 mg) every 4 hours.
Dosage: 160 mg

Erin:
more than a year ago
I love this product! When you have a crying feverish baby who won't swallow their medicine in the middle of the night, this is a perfect solution. Plus, the acetaminophen starts working much faster than with the "by-mouth" products. And you know that they got the WHOLE dose and that half of it isn't dribbling down their chin.
Medicines, especially acetaminophen, in suppository form is very common in Europe. I was very happy to find it here. I tell all the mothers I know about it. I think it is a MUST for the medicine cabinet of all parents of young children.
Page
1