Adeeva Women's Hormonal Balance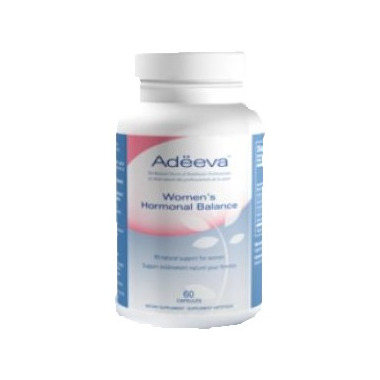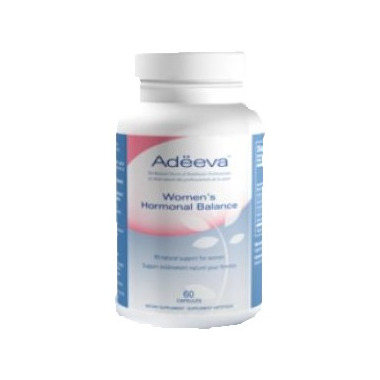 Adeeva Women's Hormonal Balance
Relief of Menopause symptoms, PMS, fibrocystic breast disease

An all-natural product containing Black Cohosh, Soy Isoflavones and Gamma Oryzanol that have been shown to support female hormonal health and help manage a variety of female conditions. A natural solution for menopausal symptoms, and PMS hormonal imbalance problems.

Dosage: Take 1 capsule in the morning and 1 capsule in the evening, or as directed by a health care practitioner

Active Ingredients:

Amounts for 2 capsules,
Black Cohosh Extract (2.5% triterpenes) 160 mg
Soy Extract (20% soy isoflavones) 250 mg
Gamma-oryzanol (ferulic acid) 300 mg
Non-Active Ingredients: Stearic acid (vegetable source), silicone dioxide, organic brown rice flour and hypromellose.
Caution:
Do not take this supplement if you have any of the following health conditions or circumstances listed below if there is no number listed next to it.
Pregnancy
Breast feeding or Lactation
Kidney failure (Renal failure) (6)
Received an organ transplant of any kind (6)
If kidney has been removed (6)
Kidney clearance problem (e.g., a dialysis patient) (6)
Previous Breast or Ovarian Cancer (6)
Liver ailments (6)
Kidney disease (6)

Medication / Treatment / Apparatus
Receiving chemotherapy treatment (6)
Receiving radiation treatment (6)
* Women's Hormonal Balance is for FEMALES ONLY
Legend
(6) Requires approval from specialist/physician"
Contains no hydrogenated oils, digestible plastics, wax, artificial preservatives, colours, flavours, or added sugar, corn, starch, milk products, wheat, yeast and is salt free.