Adrien Gagnon Collagen Triple Action Liquid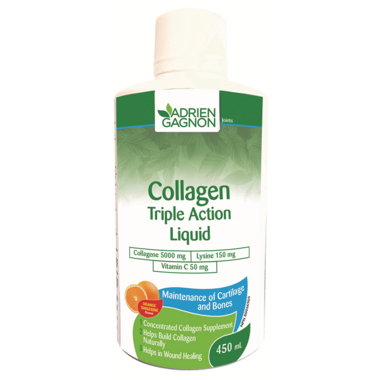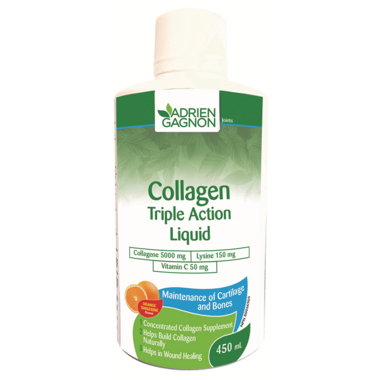 Adrien Gagnon Collagen Triple Action Liquid
Adrien Gagnon Collagen Triple Action Liquid helps in collagen formation and in the development and maintenance of cartilage and bones. It provides essential amino acids for the maintenance of good health and helps to reduce joint pain associated with osteoarthritis.
Benefits:
Assimilates rapidly
Reduces joint pain
Helps in collagen formation
Aids in maintenance of cartillage
Helps in wound healing
Provides essential amino acids
Ideal for:
Those who have joint pain
Athletes who have premature wear of the joints
Those who want to keep healthy tissues and slow the consequences of aging
Dosage:
Adults take 1 tablespoon (15ml) daily. Use for minimum 5 months to see beneficial effects.
Ingredients:

Each tablespoon (15ml) contains:
Hydrolyzed Collagen (bovine) 5 000 mg
Lysine (L-lysine) 150 mg
Vitamin C (ascorbic acid) 50 mg