Adrien Gagnon Eliminex Herbal Tea Lemon Flavour
with Cascara Sagrada
25 Tea Bags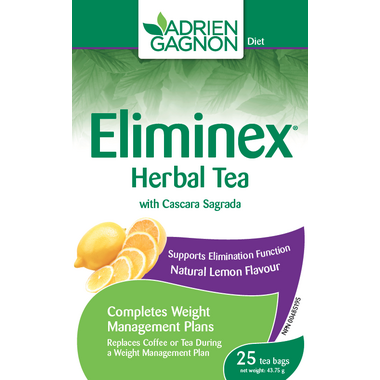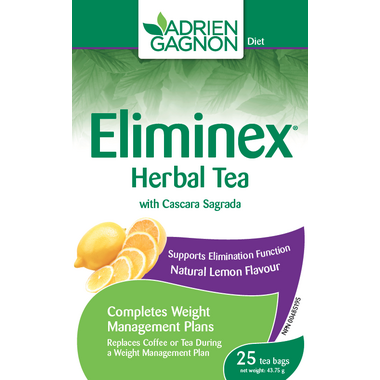 Adrien Gagnon Eliminex Herbal Tea Lemon Flavour
with Cascara Sagrada
25 Tea Bags
Adrien Gagnon Eliminex Herbal Tea is formulated with diuretic and laxative herbs to support elimination. This tea also is formulated with Yerba mate and green tea, which boost metabolism to complement weight loss programs.
Benefits:
Helps elimination of waste matter
Activates urine secretion
Gently fights constipation
Note:
Eliminex herbal tea can easily be used instead of coffee or tea or as an infusion between meals.
Dosage:
Adults: To be taken instead of tea or coffee, one to three times daily. To prepare the infusion: Place a tea bag into a cup, pour boiling water and steep 5 to 8 minutes. If desired, sweeten with honey to taste.
Medicinal ingredients:Each tea bag contains:
Peppermint [Mentha piperita] (leaf) 330 mg
Burdock [Arctium lappa] (root) 270 mg
Bearberry [Arctostaphylos uva-ursi] (leaf) 240 mg
Sarsaparilla [Smilax officinalis] (root) 240 mg
Cascara sagrada [Rhammus purshiana] (bark) 240 mg
Senna [Cassia senna] (leaf) 180 mg
Canadian Brand, Gluten free, Non-GMO, Dairy Free, Peanut free product, tree nut free product, natural




Shy D:
more than a year ago
I've been taking this for about 3 days now. The taste is extremely bitter, so I prefer to drink it cold. It works well, I drink it in the morning and by the next day I go to the bathroom. I'm using it to help drop some weight. I work out 4 days a week and eat healthy, haven't seen weight loss results yet. But my stomach feel flatter.
Page
1