Adrien Gagnon Eliminex Plus Herbal Tea Peppermint Flavour
with Green Tea & Yerba Mate
20 Tea Bags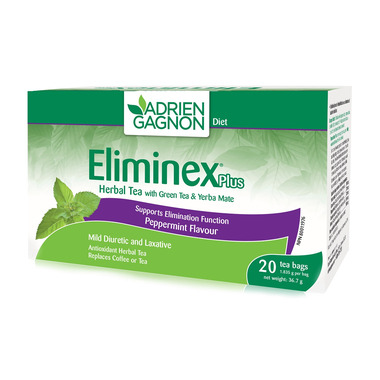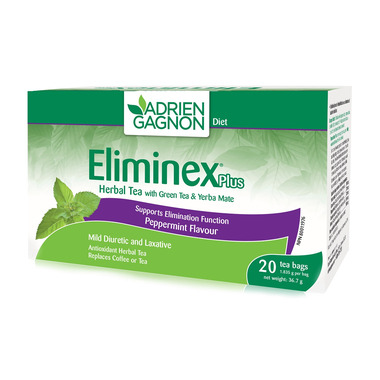 Adrien Gagnon Eliminex Plus Herbal Tea Peppermint Flavour
with Green Tea & Yerba Mate
20 Tea Bags
Adrien Gagnon Eliminex Plus Herbal Tea is formulated with diuretic and laxative herbs to support elimination. This tea also is formulated with Yerba mate and green tea, which boost metabolism to complement weight loss programs.
Benefits:

Perfect to accompany any weight loss program
Diuretic and laxative properties
A good alternative to coffee and tea
Improves the body's capacity to burn fats (thermogenic action)
Stimulates the body for a better use of its energy reserves
Dosage:
Adults: Take 3 infusions (tea bags) per day, one at each meal. Preparation: Place one tea bag into a cup, pour boiling water and steep for 5 to 8 minutes.
Medicinal ingredients:Each tea bag contains:

Yerba mate [Ilex paraguariensis] (leaves) 500 mg
Green tea [Camellia sinensis] (leaves) 335 mg
Cascara sagrada [Frangula purshiana] (bark) 240 mg
Senna [Cassia senna] (leaves) 180 mg
Precautions & Adverse Effects:

May be used up to 8-10 days
Do not use if you are pregnant or breastfeeding
Do not use if you are taking drugs inducing hypokalaemia or thiazide diuretics
Do not use if you have intestinal obstruction
Canadian Brand, Gluten free, Non-GMO, Dairy Free, Peanut free product, tree nut free product, natural