Adrien Gagnon Feminex Healthy Hair, Skin & Nails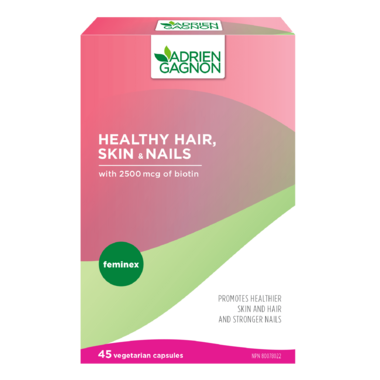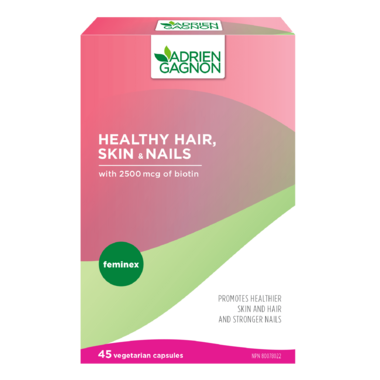 Adrien Gagnon Feminex Healthy Hair, Skin & Nails
Adrien Gagnon Feminex Healthy Hair, Skin & Nails contains essential ingredients that helps to maintain healthy hair, skin and nails, brings support for the formation and repair of connective tissue, strengthen and thicken nails, improve the health of brittle and split nails.

REASONS FOR TAKING THIS PRODUCT?
This product is designed for anyone wishing to strengthen the health of their nails and hair, and improve the overall appearance of their skin
The nutrients in this product improve the growth of the hair and give vitality to the hair by nourishing it at the source
A complete formula combining vitamins and amino acids including horsetail extract rich in silica, L-cystine and pantothenic acid that stimulate and improve hair growth
Biotin works synergistically with vitamin B5 to regenerate damaged hair and promote regrowth
These two associated vitamins are very effective in limiting hair loss
Vegetable silicon for faster growth of hair and nails
Multi-ingredient formula for better efficiency. Vegetarian capsules
WHO WILL BENEFIT FROM THIS PRODUCT?
To all people (men or women) who wish to strengthen the health of their nails and hair, and to improve the overall appearance of their skin
Adult:
Take 1 capsule daily, with food, a few hours before or after taking other medications.

Contains:
Vitamine A (palmitate): 500 mcg EAR (1655 I.U.)
Vitamine B6 (pyridoxine hydrochloride): 3 mg
Niacinamide: 35 mg
Pantothenic acid (calcium d-pantothenate): 50 mg
Vitamine C (ascorbic acid): 50 mg
Vitamine D3 (cholecalciferol): 6,25 mcg (250 I.U.)
Vitamine E (d-alpha-tocopheryl acetate): 6,7 mg AT (10 I.U.)
Biotin: 2500 mcg
Copper (gluconate): 100 mcg
Magnesium (citrate): 20 mg
Selenium (citrate): 30 mcg
Zinc (citrate): 10 mg
L-Cystein (hydrochlorate): 50 mg
Horsetail [Equisetum arvense] (whole plant): 80 mg
Extract standardized to 7.0% silicon dioxide
Do not use this product if you are taking antibiotics or nitroglycerin. Consult a health care practitioner prior to use if you are pregnant or breastfeeding, or have kidney stones.