Adrien Gagnon Feminex Iron Boost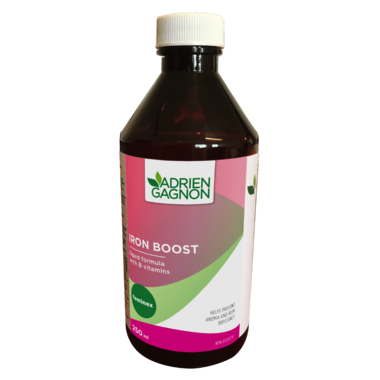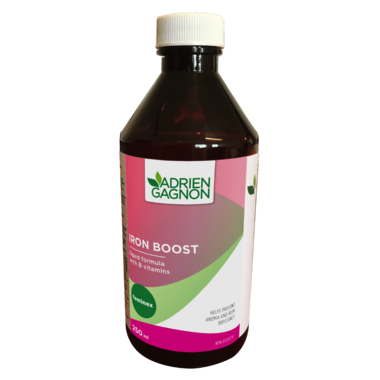 Adrien Gagnon Feminex Iron Boost
Adrien Gagnon Feminex Iron Boost contains the essential ingredients that help in the production of red blood cells and hemoglobin to prevent iron deficiency.

REASONS FOR TAKING THIS PRODUCT?
Iron is a trace element present in the body, mainly absorbed in the small intestine. It has a fundamental role in the constitution of hemoglobin and myoglobin for the transport and storage of oxygen in cells. The red blood cells fix oxygen in the tissues by the iron contained in the hemoglobin. Without iron, the human body can no longer form hemoglobin and is therefore no longer able to perform this function of vital transport
Iron also participates in the reactions of the oxidative metabolism of foods to provide the energy the body needs
It also plays an important role in the anti-infectious immune response, the regulation of internal temperature, the body's tolerance to stress
Since the body cannot synthesize it, iron must be provided by diet or supplements to prevent iron deficiency anemia whose symptoms are:
Pale
Decreased physical strength, shortness of breath on exertion
Decreased resistance to infections, cold sensitivity
Hair Loss
This supplement also contains Group B vitamins that contribute to the production of hemoglobin as well as the fight against fatigue
WHO WILL BENEFIT FROM THIS PRODUCT?
Pregnant or nursing women need more iron
Blood loss is the most common cause of adult iron deficiency anemia. Women in particular lose blood every month at the time of their menstruation which when abundant can cause anemia
Sportsmen practicing endurance sports must ensure that they have adequate intake of iron. Internal bleeding can lead to blood loss, such as stomach ulcers, ulcerative colitis, or an anti-inflammatory drug over an extended period of time
Inability to absorb iron, due in particular to Crohn's disease or celiac disease, can generate low levels of iron in the body
Dosage: Take with food a few hours before or after taking other medications. Adolescents 10-13 years old: Take 10ml daily. Adult women and adolescents 14+: Take 10ml twice daily.
Each 10 mL dose contains:

Iron (iron gluconate): 10,0 mg
Vitamin B1 (thiamine): 2,5 mg
Vitamin B2 (riboflavin): 4,0 mg
Vitamin B6 (pyridoxine): 2,0 mg
Vitamin B12 (cyanocobalamin): 7,5 mcg
Keep out of reach of children. There is enough drug in this package to seriously harm a child. Pregnant women: taking a daily prenatal multi-vitamin mineral supplement along with this product may result in constipation, diarrhea, and/or vomiting due to the high intake of iron.