Adrien Gagnon Glucosamine with MSM
Relieves Joint Pain
120 Tablets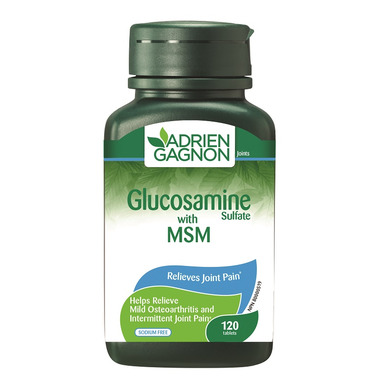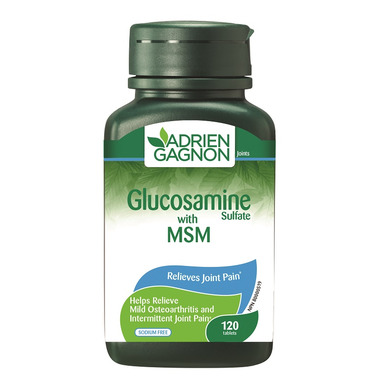 Adrien Gagnon Glucosamine with MSM
Relieves Joint Pain
120 Tablets
Glucosamine sulphatee is an amino simple sugar (monosaccharide), which the body produces to promote the repair of joint, ligament and tendon surfaces. MSM is a source of organic sulphur. The body's natural production of glucosamine sulphate decreases with age. Using supplements is therefore important to those who experience age-related articular problems. MSM is a source of organic sulphur, which contributes to joint repair and to relieving joint pain. Sulphur is necessary for the incorporation of glucosamine into the cartilage structure.
Benefits & Recommended for:
Glucosamine sulfate and MSM are both recognized treatments for joint pain associated with osteoarthritis or wear and tear.
This product is sodium free and is safe for people with hypertension (high blood pressure). Glucosamine sulfate supplies 125 mg of potassium per tablet.
Precautions & Adverse Effects:
Consult a healthcare practitioner prior to use if you are pregnant or breastfeeding.
Consult a healthcare practitioner if symptoms persist after 6 months.
Some people may experience mild gastrointestinal bloating, constipation or indigestion.
Dosage
Adults: Take 3 tablets daily, with a meal.
Use for a minimum 4 weeks to see beneficial effects.