Adrien Gagnon Glucosamine with Calcium Magnesium and Vitamin D
Prevents Bone Loss
100 Tablets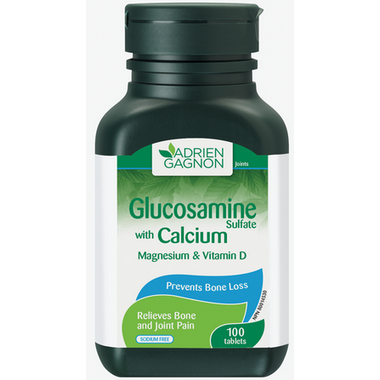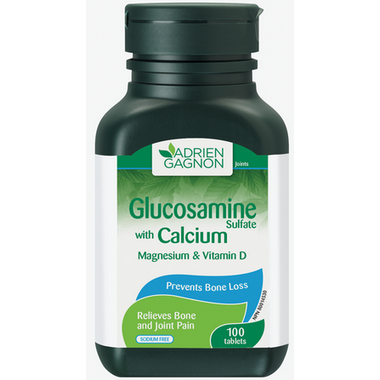 Adrien Gagnon Glucosamine with Calcium Magnesium and Vitamin D
Prevents Bone Loss
100 Tablets
Adrien Gagnon Glucosamine with Calcium Magnesium and Vitamin D is recommended for Arthritis or osteoarthritis accompanied by osteoporosis and joint pain with family history of osteoporosis or bone fragilization. The body's natural production of glucosamine decreases with age. Using supplements for this substance is therefore important for those who show articular problems. This product is sodium free and is safe for people with hypertension (high blood pressure). Glucosamine sulfate supplies 125 mg of potassium per tablet.
Benefits & Recommended for:
Helps to relieve joint pain associated with osteoarthritis and osteoarthritis of the knee
Helps to protect against the deterioration of cartilage
A factor in maintaining healthy cartilage and/or join health
Adequate calcium and vitamin D as part of a healthy diet
Helps prevent bone loss/osteoporosis
Precautions & Adverse Effects:
Consult a healthcare practitioner prior to use if you are pregnant or breastfeeding.
Consult a healthcare practitioner if symptoms worsen.
Dosage
Adults: Take 3 tablets daily, with a meal.
Use for a minimum of 4 weeks to see beneficial effects.