Adrien Gagnon Glucosamine + Chondroitin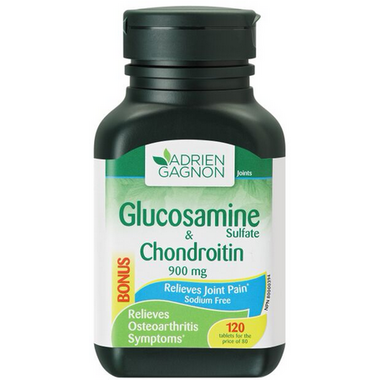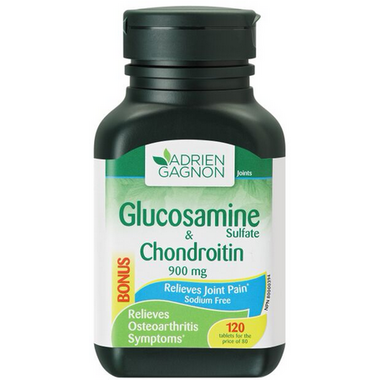 Adrien Gagnon Glucosamine + Chondroitin
Glucosamine sulphate is an amino simple sugar (monosaccharide), which the body produces to promote the repair of joint, ligament and tendon surfaces. Chrondroitin helps maintain and rebuild cartilage and the production of synovial fluid. This supplement helps to relieve joint pain associated with osteoarthritis and osteoarthritis of the knee. It helps protect against the deterioration of cartilage. A factor in the maintenance of healthy cartilage and/or joint health.
Benefits & Recommended for:
This product provides full doses of glucosamine sulfate and chondroitin sulfate for an optimal efficacy in case of osteoarthritis or cartilage wear and tear.
The production of glucosamine sulfate and chondroitin sulfate by the body decreases with age. Using these substances as food supplements is therefore important for people suffering from age-related articular disorders.
This product is sodium free and is safe for people with hypertension (high blood pressure). Glucosamine sulfate supplies 125 mg of potassium per tablet
Precautions & Adverse Effects:
Do not use if you are pregnant or breastfeeding.
Consult a healthcare practitioner if you experience rare gastrointestinal pain or bowel movement disturbances.
Consult a healthcare practitioner if symptoms worsen.
Dosage:
Adults: Take 3 tablets daily, with a meal.
Use for a minimum of 2 months for beneficial results.