Adrien Gagnon Melatonine Sleep No Noctural Awakenings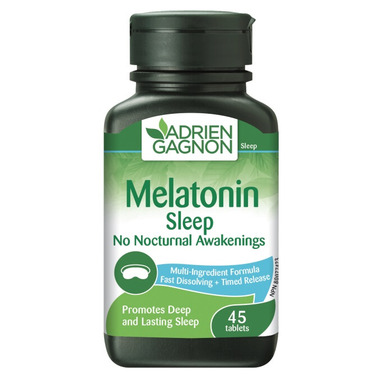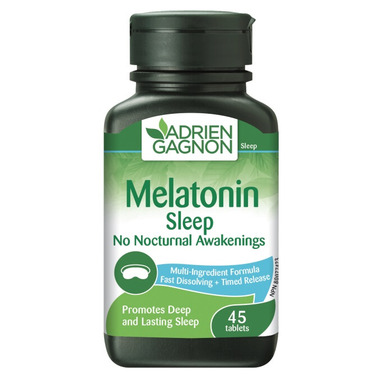 Adrien Gagnon Melatonine Sleep No Noctural Awakenings
This formula helps reduce the time needed to fall asleep, reduces nightly awakenings and increases sleep duration.
Features:

Helps increase the total sleep time in people suffering from sleep restriction or altered sleep schedule, e.g. shift-work and jet lag.
Helps to reduce the time it takes to fall asleep in people with delayed sleep phase disorder.
Helps to maintain proper muscle function.
California poppy is traditionally used in Herbal Medicine as a mild sedative, sleep aid and as an analgesic.
Reasons for taking this product:
Sleep without awakenings calls the benefits of melatonin, magnesium and California pivot. It comes in controlled release tablets that release half of the melatonin and magnesium at first, which promotes a quick sleep. A few hours later, the rest of melatonin and California poppy acts for a night without awakenings.
Melatonin is known to promote sleep and reduce the time to fall asleep.
Magnesium helps the muscles properly work, which reduces the possibility of muscle spasms.
The California poppy helps you relax and relieve pain.
Who will benefit from this product?
For people who have difficulty falling asleep.
For people who wake up frequently at night.
For people who are bothered by pain that wakes them up during the night.
Dosage: Adults: Take 1 tablet once a day, at or before bedtime. For jet lag, take once a day at bedtime after darkness has fallen, while travelling, and at destination until adaptation to the new daily pattern. Do not drive or use machinery for 5 hours after taking melatonin.
Ingredients:

Melatonin : 5 mg
Elemental magnesium (citrate) : 20 mg
Timed release layer:
Melatonin : 5 mg
California poppy [Eschscholzia californica] (herb top) 4 :1 extract equivalent to 200 mg of dried plant : 50 mg
Caution:

If you are pregnant or breastfeeding, do not use this product.Consult a health care practitioner for use beyond 4 weeks, if symptoms persist continuously for more than 3 weeks (chronic insomnia), or if symptoms worsen.
For occasional short-term use in case of jet lag.
Consumption with alcohol, other medications or natural health products with sedative and/or analgesic properties is not recommended.
Consult a health care practitioner prior to use if you are taking one of the following medications: anticoagulant, anticonvulsant, immunosuppressive medications, blood pressure medications, sedative, hypnotic or psychotropic medications, or steroids; or if you have one of the following conditions: asthma, depression, diabetes or hypoglycaemia, cardiovascular disease, chronic kidney disease, liver disease, immune system disease, migraine, hormonal, coagulation or seizure disorders.
Some people may experience drowsiness and diarrhea.
Exercise caution if operating heavy machinery, driving a motor vehicle or involved in activities requiring mental alertness.