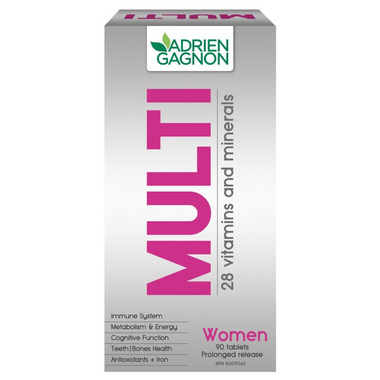 Description
Adrien Gagnon Multi Active Women contains all the essential vitamins and minerals to maintain healthy body functions.
Physically active women have specific vitamin and mineral requirements. When the body's metabolism increases, these nutrients are used up faster. Active women can also benefit from an energizing boost to help them keep up with their day-to-day activities.
Multi Active Women has been developed to meet the additional vitamin and mineral requirements of physically active women. The formulation contains B complex vitamins and iron, to maximize the body's metabolism and to prevent the fatigue associated with iron deficiency. Eleutherococcus (Siberian ginseng), an adaptogenic plant, has a tonic effect which helps fight fatigue.
Multi Active Women provides a complete balanced selection of vitamins and minerals to support a healthy, active lifestyle.
Benefits & Recommended for:
Specifically formulated to support an active lifestyle in women
Multivitamins and minerals for the maintenance of good health
Antioxidant formula to help prevent illness
Precautions & Adverse Effects:
Take a few hours before or after taking other medications.
Consult a healthcare practitioner prior to use if you have impaired liver function or if you are taking blood thinners.
Keep out of reach of children. There is enough iron in the tablets in the package to seriously harm a child.
Dosage:
Adults: Take 1 tablet daily, at mealtime
Highlights

Shipping & Returns