Adrien Gagnon Omega Junior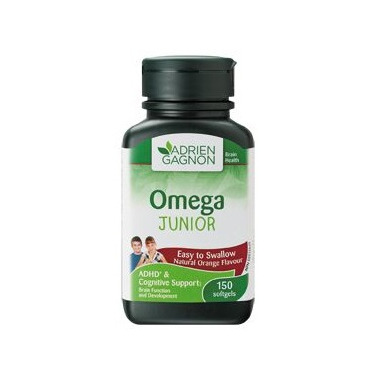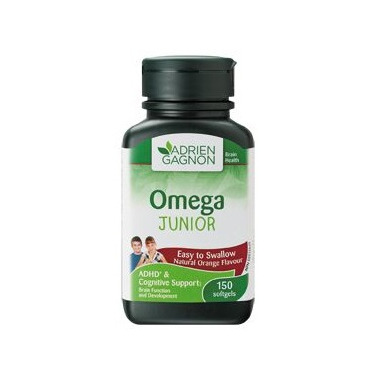 Adrien Gagnon Omega Junior
Adrien Gagnon Omega Junior with 220 mg of fish oil per soft gel can help maintain cognitive and brain development. Omega fatty acids can help decrease symptoms associated with attention-deficit hyperactivity disorder (ADHD) such as lack of concentration.

Benefits:
Omega-3 and omega-6 fatty acids are essential to the development and formation of brain cells
Deficiency in essential fatty acids in children is associated with a higher risk of behavorial disorder such as hyperactivity and/or attention deficit (ADHD)
Clinical studies have shown that a combination of essential omega-3 and omega-6 fatty acids benefits children suffering from development and learning disorder - This specific combination has improved concentration, learning capacity and behaviour in children suffering from ADHD
Note:
An orange flavour has been added to reduce bad taste. Children having difficulty swallowing softgels can chew them without affecting the efficacy of the product.
Dosage:
School age children: Take 4 softgels per day, 2 in the morning and 2 in the evening, before meals.

Medicinal ingredients:
Each softgel contains:
Concentrated marine fish oil (anchovy, cod, sardine and tuna flesh) - 220 mg
DHA (docosahexaenoic acid) 144 mg
EPA (eicosapentaenoic acid) 21 mg
Borage oil [Borago officinalis] 130 mg
LA (linoleic acid) 51 mg
GLA (gamma-linolenic acid) 29 mg
Natural vitamin (E d-alpha tocopherol) 6.7 mg (10 I.U.)
Important notice: All AG Natural Health omega products are tested for contaminants (lead, mercury, bacteria, PCBs, etc.) and have passed pharmaceutical quality and purity standards.
Canadian Brand, Non-GMO, Dairy free, Peanut free product, tree nut free product, Natural