Adrien Gagnon St. John's Wort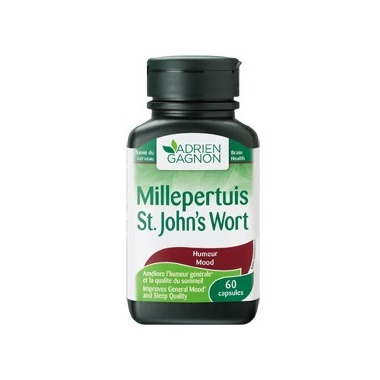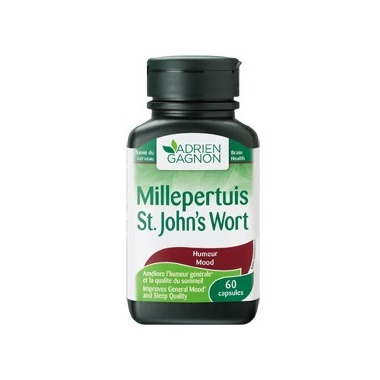 Adrien Gagnon St. John's Wort
Adrien Gagnon St. John's Wort can help relieve restlessness or nervousness. It can also help to treat symptoms of sleep disorders.
Recommended for:
Poor sleep quality
Restlessness or nervousness
Dosage:
Adults: Take 3 capsules daily, 1 at each meal.
Medicinal ingredients:
Each tablet contains:
St-John's wort [Hypericum perforatum] (aerial parts) Extract 5:1 standardized at 0.3% in hypericin and equivalent to 1500 mg of whole dried herb - 300 mg
Precautions & Adverse Effects:
May be used up to 6 weeks. Do not use if you are pregnant or breastfeeding. Consult a health care practitioner if symptoms persist or if you experience sleep disturbances. Consult a health care practitioner if you are taking conventional medication, such as contraceptives, HIV-1 protease inhibitors, non-nucleoside reverse transcriptase inhibitors, immunosuppressants, anticoagulant, digoxin, theophylline, serotonergic antidepressants, migraine therapies, SSRIs and/or anti-epilepsy drugs. Avoid prolonged exposure to sunlight, ultraviolet light (UV) or UV therapy.
Gluten free, Non-GMO, Dairy free, peanut free product, tree nut free product, natural, Canadian Brand