Adrien Gagnon Super Energex Caramel
30 ampoules of 10 mL each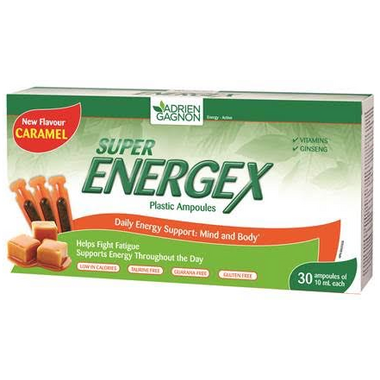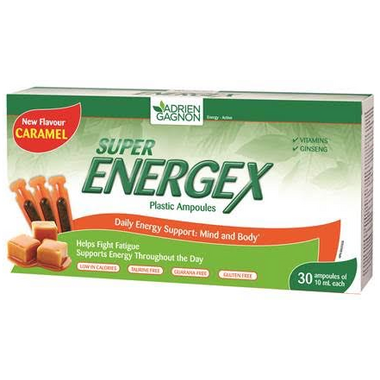 Adrien Gagnon Super Energex Caramel
30 ampoules of 10 mL each
Super Energex is an energizing tonic that fights fatigue and helps increase resistance to stress. It is fast and sustained action.
Features:
Used in Herbal Medecine to help improvemental and/ or physical performance after periods of mental and/ or physical exertion
Used in Herbal Medicine as a tonic to help relieve debility and/ or to aid during convalescence
Helps the body to metabolize carbohydrates, fats and proteins
Directions:
Adults: Take one ampoule per day, diluted in half a glass of water or fruit juice, ideally in the morning. May be used continuously for up to one month.
Warning:
Consult a practionner for use beyond 1 monthm Do not use if you are pregnant, breastfeeding or if you have high blood pressure. Consult a health care practioner if symptoms persist or worsen.
Ingredients:
MEDICAL INGREDIENTS : Vitamin B1 (thiamineHCL) : 4,5mg, Vitamin B2 (riboflavin-5- sodium-phosphate) : 7,5mg, Vitamin B6 ( pyridoxine HCL) : 3mg, Vitamin B12 (cyanocobalamin): 14mcg, Niacinamide : 45mg, Pantothenic acid (d-pantothenol): 15 mg, Kola Nut (cola nitida) nut: 50mg, 4:1 extract equivalent to 200 mg of crude nut, Siberian ginseng ( Eleutherococos senticosus ) (root) : 45 mg, 45:1 extract quivalent to 200mg of crude nut, China red ginseng ( Panax ginseng)(root) :8,33mg, 6:1 extract equivalent to 50 mg of dried roots, Suma ( Herbanthe eriantha) (root): 12,5 mg, 4:1 extract equivalent to 50 mg of dried roots, Ashwaganda ( Withania somnifera)(root) : 12,5 mg 4:1 extract equivalent to 50 mg of dried roots, Maca (Lepidium meyenii)(root) :12,5mg 4:1 extract euivalent to 50 mg of dried roots. NON-MEDICINAL INGREDIENTS ( alphabetical order): Caramel, ethanol, ethyl vanillin, glycerin, potassium sorbate, purified water, sodium benzoate, sodium hydroxide, sucrose.