Adrien Gagnon Super Energex+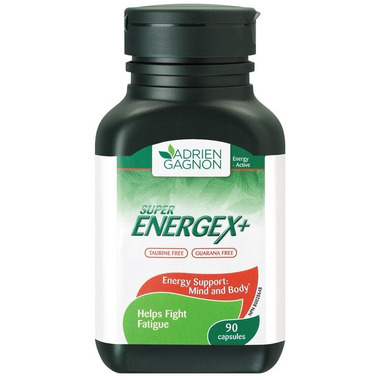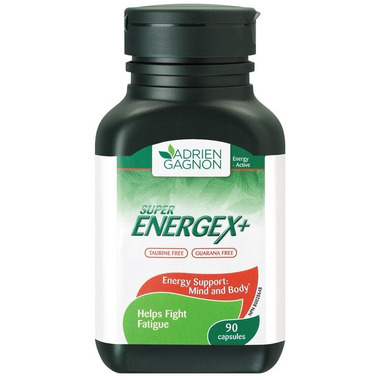 Adrien Gagnon Super Energex+
Adrien Gagnon Super Energex+ is a taurine and guarana free energizing tonic that helps increase resistances to stress.
Benefits & Recommended for:
Fatigue
Exhaustion
Stress
Sports
Lack of energy
Intense physical labour
Note:
Perfect for individuals suffering from fatigue and stress. Ideal when performing intense labour and physical activities. The Super Energex formula provides a fast-acting energizing action to help start off your day. The adaptogenic plants produce a long-lasting revitalizing action to fight fatigue all day.
Dosage:
Adults: Take 2 to 3 capsules once daily, at breakfast. For use above one week, consult a healthcare practitioner.
Medicinal ingredients:
Each capsule contains:
Kola Nut [Cola nitida] (nut) Extract 4:1 (8% caffeine or 32mg) equivalent to 1
600 mg 400 mg
Siberian Ginseng [Eleutherococcus senticosus] (root) Extract 10:1 equivalent to 2
000 mg 200 mg
Rhodiola [Rhodiola rosea] (root and rhizome) Extract standardised to 3% in rosavine 50 mg
Precautions & Adverse Effects:
Consult a health care practitioner for use beyond 1 week or if symptoms persist or worsen. Consult a health care practitioner prior to use if you have any type of acute infection, are taking lithium, have glaucoma or detrusor instability (overactive bladder syndrome). Do not use if you are pregnant, breastfeeding or have high blood pressure, gastric or duodenal ulcers. Contains caffeine. Consumption with natural health products or drugs (e.g. bitter orange extract, synephrine, octopamine, ephedra, ephedrine) which increase blood pressure, or other caffeine-containing products (e.g. medications, coffee, tea, colas, cocoa, guarana, maté) is not recommended. May cause nervousness, insomnia or allergy (hypersensitivity); in which case, discontinue use.
Canadian Brand, Non-GMO,Gluten free, Dairy Free,Peanut free product, Tree nut free product, natural