Advil
Advil Extra Strength Liqui-Gels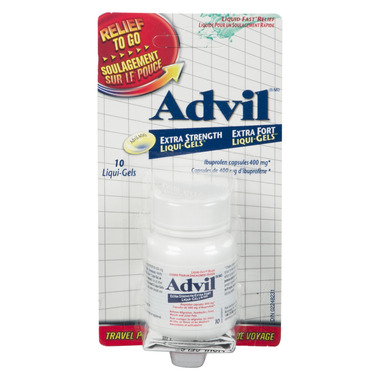 Advil
Advil Extra Strength Liqui-Gels
Description
Advil Extra Strength Liqui-Gels relieve migraine pain and symptoms such as nausea and sensitivity to light and sound, while targeting non-migraine headaches, menstrual and back pain - with maximum non-prescription power.

Uses: For fast and effective relief of: migraine pain; migraine symptoms like sensitivity to light and sound and nausea; headache; menstrual pain; backache; toothache; reduction of fever; arthritis pain; muscle & joint pain.

Active Ingredients: 400 mg solubilized ibuprofen (free acid and potassium salt); Pain reliever/Fever reducer

Non-medicinal Ingredients: Gelatin, lecithin (soy), medium chain triglycerides, pharmaceutical ink, polyethylene glycol, potassium hydroxide, purified water, sorbitan, sorbitol.

Directions: Adults and children over 12: For migraine headaches, take 1 Extra Strength Liqui-Gel at the first sign of symptoms and every 4 hours as needed. For all other uses, take 1 Extra Strength Liqui-Gel every 4 hours as needed. Do not exceed 3 Extra Strength Liqui-Gels in 24 hours, unless directed by a physician. Children 12 and under should use Children's Advil.

Caution: Keep out of reach of children. This package contains enough medicine to seriously harm a child.

Warning: Do not take Advil if taking acetylsalicylic acid (ASA) or other products containing ibuprofen, or if allergic to ASA, salicylates or anti-inflammatory drugs, or any of the listed ingredients. Consult your physician before taking Advil if you have peptic ulcers, high blood pressure, heart, kidney or liver disease, any other serious disease, or are taking any other drug. Do not take Advil if you are pregnant or nursing a baby, unless directed by a physician. Consult your physician if the pain or fever persists for more than 5 days. Do not exceed the recommended dose unless advised by a physician.

If abdominal pain, heartburn, nausea or vomiting, bloating, diarrhea or constipation, ringing or buzzing in the ears, nervousness, sleeplessness, dizziness, any change in vision, fluid retention, itching, skin rashes or any other side effect or unexplained symptom develops while taking Advil, discontinue use immediately and contact a physician. In case of overdose, call a poison control centre or a doctor at once even if there are no symptoms.

Shipping & Returns
Unfortunately, due to the nature of this item, we cannot accept any returns.
We are only able to ship this item to Canadian customers.
This item cannot be shipped to Quebec due to provincial pharmacy regulations.
Click here for more information