Advil
Advil Nighttime Liqui-Gels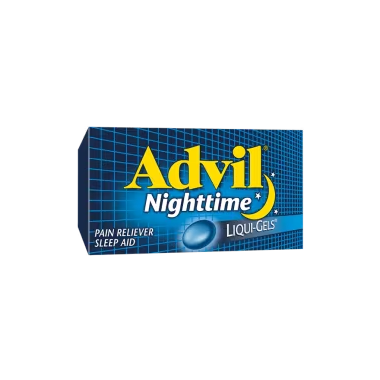 Advil
Advil Nighttime Liqui-Gels
Description
When you can't sleep because pain is keeping you up at night, it feels like time is your enemy. Say goodnight to your aches and pains with Advil Nighttime, the only product that contains the pain-relieving power of Advil and helps you sleep. When you wake up tomorrow, you'll be ready to take on the day.
Uses:
For fast and effective relief of occasional mild to moderate nighttime pain and accompanying sleeplessness due to minor aches and pains associated with joints, muscles, backache, headache and toothache as well as pain of migraine and arthritis. For use only if you have short-term nighttime pain causing sleeplessness. If this is not your case, do not use.
Active Ingredients:
200 mg solubilized Ibuprofen (free acid and potassium salt); 25 mg Diphenhydramine Hydrochloride; Pain Reliever / Sleep Aid
Non-medicinal Ingredients:
Coconut oil, D&C red no. 33, FD&C blue no. 1, gelatin, pharmaceutical ink, polyethylene glycol, potassium hydroxide, purified water, sorbitan, and sorbitol.
Directions:
Adults ≥16 to 65 years: Take a single dose of 1 or 2 Liqui-Gels® at night. Do not take for more than 5 consecutive nights unless directed by a physician.
Caution:
Keep out of reach of children. This package contains enough medicine to seriously harm a child. Do not give to children under 16 unless directed by a physician.
Warning:
Do not take if you suffer from sleeplessness without pain, have pain that will not cause sleeplessness, if taking any other pain reliever, sleep aid, anti-nausea, or allergy medicine with antihistamines/pain relievers, or if allergic to ASA, salicylates, anti-inflammatory drugs, or any of the listed ingredients. May cause marked drowsiness. Consult your physician before taking Advil Nighttime if you have peptic ulcers, high blood pressure, heart, kidney or liver disease, any other serious disease, or are taking any other drug. Do not take Advil Nighttime if you are pregnant or nursing a baby, unless directed by a physician. Do not exceed the recommended dose unless advised by a physician.
If abdominal pain, heartburn, nausea or vomiting, blood in vomit, bloating, diarrhea or constipation, ringing or buzzing in the ears, nervousness, dizziness or any change in vision, itching, fluid retention, skin rashes, bloody or black stools, bladder pain, hallucinations, difficulty speaking or any other side effect or unexplained symptoms develop, while taking Advil Nighttime, discontinue use immediately and contact a physician. In case of accidental overdose, call a poison control centre or a doctor at once even if there are no symptoms.
Consult your physician if the symptoms of pain or sleeplessness persist for more than 5 days.
Should you require consultation with a pharmacist, you may
contact our Well.ca Pharmacist.
Please read the label, warnings and inserts provided by the manufacturer and consult your healthcare professional when purchasing medications or natural health products to be sure the product is right for you.
Shipping & Returns
Unfortunately, due to the nature of this item, we cannot accept any returns.
We are only able to ship this item to Canadian customers.
This item cannot be shipped to Quebec due to provincial pharmacy regulations.
Click here for more information