Advil
Advil Pediatric Drops For Infants Dye Free Grape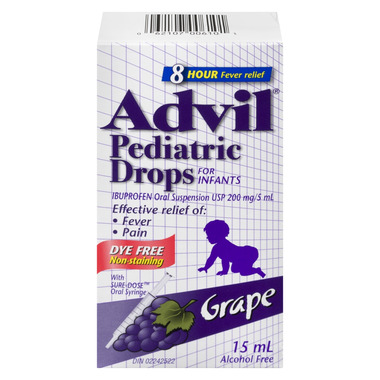 Advil
Advil Pediatric Drops For Infants Dye Free Grape
Description
Advil Pediatric Drops relieve fevers for up to 8 hours and works fast, so your baby can rest peacefully. They come with a SURE-DOSE™ oral syringe for precise and easy dosing. For ages 3 months to 3 years.
TEMPORARILY REDUCES FEVER AND RELIEVES MINOR ACHES AND PAIN DUE TO:
Immunization
Earache
Colds
Sore throat
Directions for use:
Shake well. Use only with SURE-DOSE™ Oral Syringe. Doses may be repeated every 6-8 hours while symptoms persist, up to 3 doses a day, or as directed by a doctor.
Active Ingredient(s):
Ibuprofen 200 mg per 5 mL
Non-Medical Ingredients: Citric acid, disodium EDTA, flavour, glycerin, microcrystalline cellulose, polysorbate 80, sodium benzoate, sodium carboxymethylcellulose, sorbitol, sucrose, water, xanthan gum.
Should you require consultation with a pharmacist, you may
contact our Well.ca Pharmacist.
Please read the label, warnings and inserts provided by the manufacturer and consult your healthcare professional when purchasing medications or natural health products to be sure the product is right for you.
Shipping & Returns
Unfortunately, due to the nature of this item, we cannot accept any returns.
We are only able to ship this item to Canadian customers.
This item cannot be shipped to Quebec due to provincial pharmacy regulations.
Click here for more information