Air Wick V.I.POO Toilet Perfume Lavender Superstar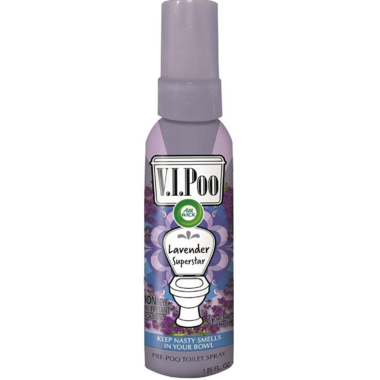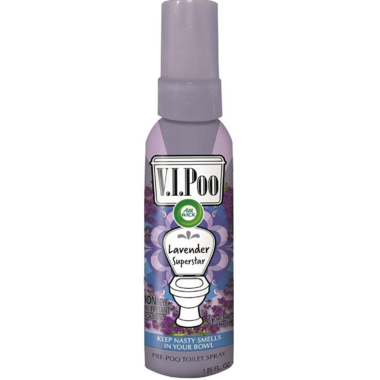 Air Wick V.I.POO Toilet Perfume Lavender Superstar
The time has come to change the way we face embarrassing bathroom odors! Keep nasty smells in the bowl with new Air Wick V.I.POO Toilet Perfume. Air Wick's collection of scents (Lavender, Lemon, and Rose) trap nasty smells in the bowl and release a SPECTACULAR fragrance that leaves the bathroom smelling better than before you used it.
Features:
Proactive Odor Protection: Pre-poo toilet spray traps odors before they escape
Keep Nasty Smells in Your Bowl: Creates a layer that traps odors under the surface
Contains Essential Oils: Releasing a fresh fragrance leaving the bathroom smelling great
Lasts and Lasts: Up to 300 sprays for 100 uses per bottle
Perfect for On-the-Go: Small, convenient, non-aerosol spray bottle is easily portable
Katelyn:
a few months ago
Works great. Smell is a little strong, but I've found using one spray makes it a bit less overwhelming, and works just as well. I received my first bottle as a free sample in exchange for my review, but that bottle finally ran out and I bought another, as well as one for a stocking stuffer!
Sarah:
about a year ago
I received the VIPoo Lavender scent as a free sample in exchange for an unbiased opinion. Generally I prefer more natural products but this is a good alternative for someone who uses more mainstream products. It works as advertised and hides smells well. The bottle doesn't spray too easily (I'm not sure if it's the bottle or the consistency of the product) so getting out 5 sprays can be a challenge even when the bottle is full. I also tried this at night and just sprayed in the bowl before going to bed as the kids don't always remember to flush in their sleepy haze at night. The scent was quite strong and wafted throughout the house. I wouldn't recommend it for this purpose if your bathroom is right beside the master bedroom (like ours).
Page
1