Balanced Energy Stimulant
28 g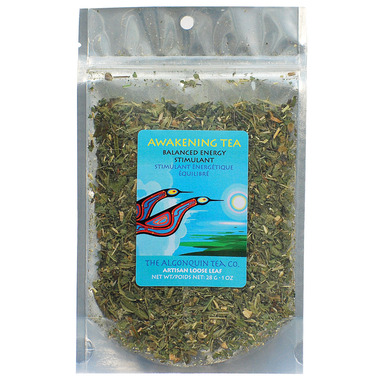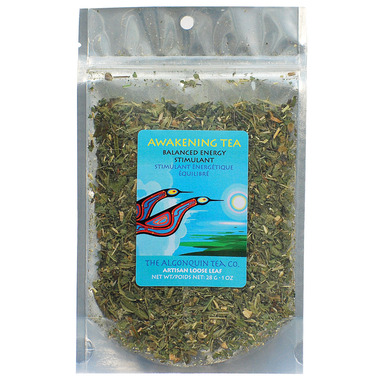 Algonquin Awakening Tea
Balanced Energy Stimulant
28 g
Blends nutritious and supportive herbs with stimulating herbs, producing a balanced, uplifting tea that energizes without the side-effects of caffeine. Awakening tea is ideal for when we want a boost to keep up running, dancing, playing working, and get going any time of day!

Traditional Uses:
Stimulant
Aphrodisiac
Tonic for blood circulation to reduce arthritic and headache pain
Ingredients
: Labrador Tea, Mountain Mint, Alfalfa, Nettle, Astragalus, Angelica, Joe-Pye, Calamus, Ginseng

Ingredient Traditional Uses:
LABRADOR TEA – stomach ache, fever, bronchial ailments, liver-blood tonic.
MOUNTAIN MINT – headaches, colds and fever, indigestion.
ALFALFA – synergistic and nutritive high in vitamins and minerals.
NETTLE – kidney blood tonic, spleen, circulation, rheumatism.
ASTRAGALUS – stimulant, tonic for spleen, kidneys, lungs.
ANGELICA – colds, flatulence, appetizer, stimulant.
JOE-PYE – rheumatism, gall bladder urinary tract, impotence.
CALAMUS – stomach, fevers, colds, coughs, stimulant.
GINSENG – blood circulation, mental stimulant, adaptogenic.