Algonquin Sweetfern Tonic Tea
Daily Immune Booster
16 Tea Bags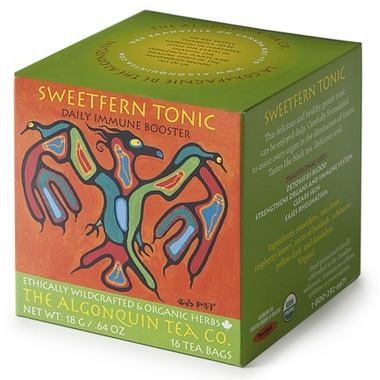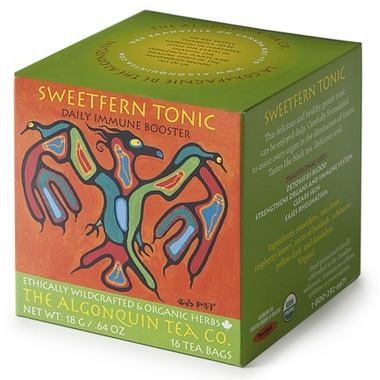 Algonquin Sweetfern Tonic Tea
Daily Immune Booster
16 Tea Bags
On high sunny ridges of the Canadian Shield, where birds of prey glide thunderclouds are born, Sweetfern fills the air with its spicy aroma. This delicious and healthy gentle tonic can be enjoyed daily. Carefully formulated to assist every organ in the elimination of toxins. Tastes like black tea.

Traditional Uses:
Detoxifies blood
Strengthens organs and immune system
Clears skin
Eases rheumatism
Ingredient Traditional Uses:

SWEETFERN (Comptonia Peregrina)- used by natives and settlers as a general tonic tea. Stronger decoctions made with Sweetfern have been used for rheumatism, internal bleeding, leucorrhea, dysentery and topical astringent. Folk use as cancer remedy.
RED CLOVER- flowers used traditionally as blood purifier, expectorant, sedative, asthma, bronchitis, coughs, cancer.
RED RASPBERRY- leaves used traditionally as nourishing blood tonic and for back and stomach pains, diarrhea, dysentery, inflamed throat,menstruation cramps, stimulates and relaxes uterus.
BURDOCK – roots have traditionally been used for a blood purifier, liver and kidney ailments, rheumatism, gonorrhea and cancer.
ECHINACEA – used traditionally as immune tonic, aches, flu, colds, sore throat.
YELLOW DOCK (Rumex Crispus)- roots used traditionally for blood purifier, skin ailments, rheumatism, lymph glands, liver, sore throats.
DANDELION – roots have been used traditionally for problems of the liver, gall bladder, kidney and bladder. Also used for constipation and weak digestion.