Align Probiotic Supplement
For Digestive Care
28 Capsules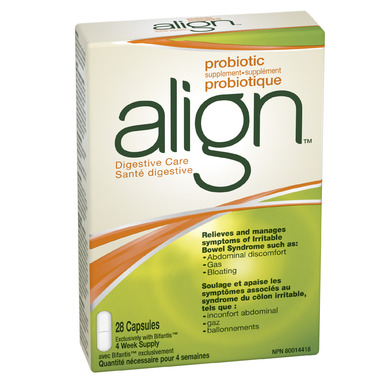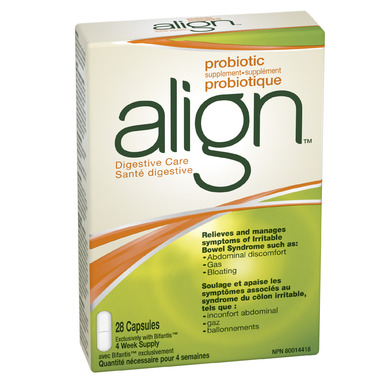 Align Probiotic Supplement
For Digestive Care
28 Capsules
Align Probiotic is the first probiotic supplement in Canada indicated to relieve and manage symptoms on Irritable Bowel Syndrome (IBS) and #1 Gastroenterologist recommended probiotic in the U.S.
When taken daily, Align Probiotics provide ongoing relief of IBS symptoms such as abdominal discomfort, gas, and bloating.
Features and Benefits:
Align Probiotic Supplement contains the probiotic Bifantis, a pure strain probiotic bacteria developed by Gastroenterologists
Bifantis is a patented probiotic that provides live bacteria that form part of the natural healthy intestinal flora
Capsule form, non-refrigerated, air-tight, self-contained, moisture-preventing blisters maintains bacteria viability
With daily use, provides ongoing relief of IBS symptoms such as: abdominal discomfort, gas, bloating, with only one capsule a day
Ingredients:
Probiotic Strain - Bifidobacterium longum subsp. infantis 35624, 1 x 107 colony-forming units
Other ingredients: microcrystalline cellulose, hypromellose, sugar, magnesium stearate, sodium caseinate (milk protein), titanium dioxide, sodium citrate dihydrate, propyl gallate.
Directions:
Take one capsule per day. Store at room temperature. For best results, keep capsules in original blister packaging until use
.

Caution:
Keep Align probiotics out of the reach of children; in case of accidental ingestion, contact your doctor or a Poison Control Centre
Do not use if you are experiencing nausea, fever, vomiting, bloody diarrhea, or severe abdominal pain
Do not use if you have immune-compromised condition (e.g., AIDS, lymphoma, patients undergoing long-term corticosteroid treatment)
Consult a doctor if symptoms of digestive upset do not improve, or persistently worsen
Other information:
You may experience temporary changes in bowel habits as you begin probiotic supplement intake.
Please be advised that Well.ca follows manufacturer guidelines for storing & shipping probiotics.