Alimentum Ready to Use Infant Formula
0+ Months
CASE of 24 x 237 ml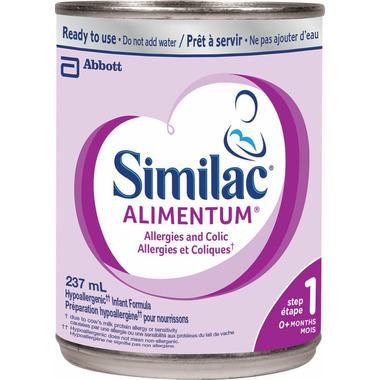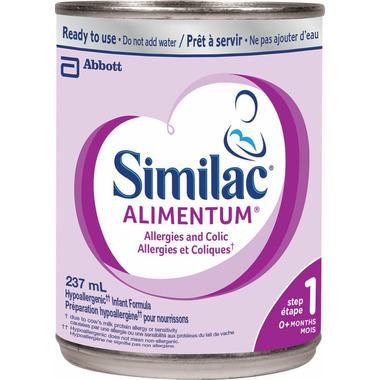 Alimentum Ready to Use Infant Formula
0+ Months
CASE of 24 x 237 ml
This item is a final sale item. Returns cannot be accepted.
A nutritionally complete, pre-digested, lactose-free and corn-free hypoallergenic formula. For colicky infants allergic to cow's milk or soy protein or with severe food allergies, select cases of chronic diarrhea, allergy to intact protein, maldigestion/malabsorption or for prevention of developing allergy in high risk infants.
Iron-Fortified
Calcium
Palm Olein Oil-Free
Gluten-free
Lactose-free
Features:
Hypoallergenic to minimize potential for allergic reaction. (Hypoallergenic does not mean nonallergenic.)
Clinically shown to reduce the risk of developing allergy in high-risk infants (i.e., infants with at least one first-degree relative [parent or sibling] with documented allergic disease).
Contains a fat blend that has been clinically proven to be well absorbed.
Clinically shown to reduce the symptoms of colic due to protein allergy.
Hydrolyzed casein supplemented with free amino acids for infants who are allergic to or unable to digest intact protein.
Approximately 33% of the fat as medium-chain triglycerides, an easily digested and well-absorbed fat source.
A blend of two carbohydrates – sucrose and modified tapioca starch – using two absorptive pathways to maximize absorption and minimize risk of malabsorption.
Lactose-free to help avoid lactose-associated diarrhea.
1.8 mg of iron (as ferrous sulphate) per 100 Cal.
Palm olein oil-free fat blend which provides excellent fat and calcium absorption.
24 Pack x 237ml

INGREDIENTS:
Water, sucrose, casein hydrolysate (enzymatically hydrolyzed), modified tapioca starch, safflower oil, MCT oil (fractionated coconut oil or palm kernel oil), soy oil, calcium citrate, calcium phosphate dibasic, carrageenan, potassium phosphate dibasic, ascorbic acid, magnesium chloride, calcium hydroxide, sodium chloride, potassium chloride, L-cystine dihydrochloride, potassium citrate, L-tyrosine, choline chloride, L-tryptophan, ferrous sulphate, taurine, m-inositol, dl-a-tocopheryl acetate, zinc sulphate, L-carnitine, niacinamide, d-calcium pantothenate, vitamin A palmitate, cupric sulphate, thiamine hydrochloride, riboflavin, pyridoxine hydrochloride, folic acid, potassium iodide, phylloquinone, biotin, sodium selenate, vitamin D3, cyanocobalamin.