Allegra
Allegra-D Allergies + Nasal Congestion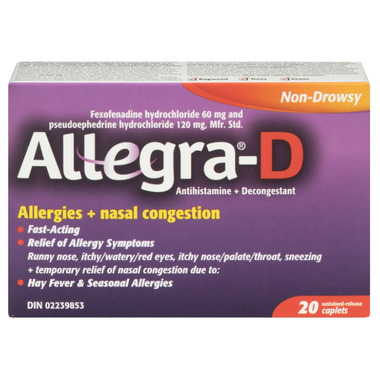 Allegra
Allegra-D Allergies + Nasal Congestion
Description
Do your allergies bring along nasal congestion? Allegra-D contains the same antihistamine as Allegra, plus a decongestant. One tablet with two ingredients, delivers fast-acting, non-drowsy, effective relief for 12 hours.

Take one sustained- release caplets every 12 hours, to relieve your allergy and nasal congestion symptoms, including:

Sneezing
Runny nose
Itchy, watery eyes
Itchy nose or throat
Nasal congestion
Directions:
Swallow the caplet whole on an empty stomach. Adults and children 12 years of age and over: 1 caplet every 12 hours.
Cautions: Pregnant or nursing mothers should not use this product except on the advice of a physician. Before using this product, consult your physician if you have kidney disease, as your dosage may need to be reduced. Do not take within 2 hours of an antacid that contains aluminum or magnesium hydroxide, as these antacids may alter the effectiveness of ALLEGRA®-D. If nervousness, dizziness, or sleeplessness occur, discontinue use and consult a physician. DO NOT USE ALEGRA-D caplets with other antihistamines and decongestants or if you have the following conditions: glaucoma, difficulty in urination due to enlargement of the prostate gland, high blood pressure, heart disease, receiving a monoamine oxidase (MOA) inhibitor or within 14 days of stopping use of MOA inhibitor, if you are allergic to any of its ingredients, or to adrenergic agents (such as ephedrine) which can show symptoms such as sleeplessness, dizziness, weakness, tremor or irregular heartbeat. Keep this and all medications safely out of reach of children.
Should you require consultation with a pharmacist, you may
contact our Well.ca Pharmacist
. Please read the label, warnings and inserts provided by the manufacturer and consult your healthcare professional when purchasing medications or natural health products to be sure the product is right for you.
Chemical Name: Fexofenadine HCL & pseudoephedrine HCL 60/120mg
We are unable to offer Paypal as a payment option for orders containing this product.
Ingredients
Active Ingredients: Fexofenadine HCl 60 mg (in each tablet, Pseudoephedrine HCl 120 mg (in each tablet) Non-Medicinal Ingredients: Carnauba wax, corn starch, croscarmellose sodium, hydroxypropyl methylcellulose, magnesium stearate, microcrystalline cellulose, polyethylene glycol, silicon dioxide and stearic acid.
Shipping & Returns
Unfortunately, due to the nature of this item, we cannot accept any returns.
We are only able to ship this item to Canadian customers.
This item cannot be shipped to Quebec due to provincial pharmacy regulations.
Click here for more information