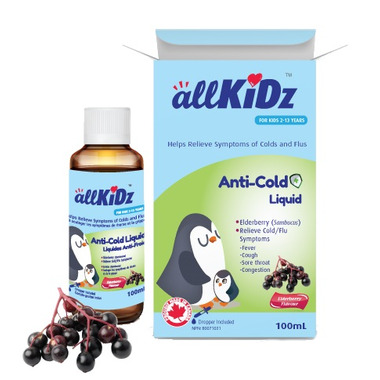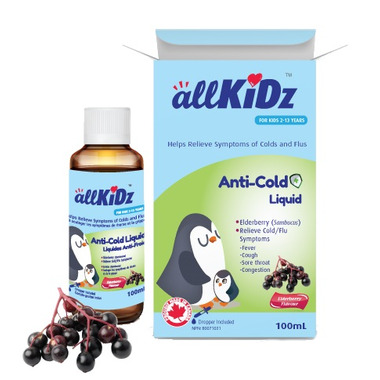 allKiDz Anti-cold Liquid is a natural and safe remedy for effective relief of cold and flu symptoms. It helps to relieve cold and flu symptoms such as fever, cough, sore throat and congestion.
Features:
For centuries, European black elderberries (Sambucus) have been traditionally used for anti-cold remedy
Boosts immune system functions
Loaded with large amounts of natural flavonoids, minerals and vitamins (especially vitamin C) to help you get through cold period more easily
Free of side effects or problematic drug interactions
Awesome taste naturally from elderberry
No artificial flavours, colours or sweeteners
No sugar, aspartame or parabens
Gluten Free

Directions:
Children 2-4 years: Take 5 mL (1 teaspoon) 2 times per day. Children 5-9 years: Take 5 mL (1 teaspoon) 3 times per day. Children 10-13 years: Take 5 mL (1 teaspoon) 3-4 times per day.
Medicinal Ingredients (per 5 mL):
European Elderberry.....375 mg
(Sambucus nigra, 4:1 equivalent to 1.5 g berries)

Non-medicinal Ingredients:
Citric Acid, Potassium Sorbate, Sodium Benzoate, Sorbitol, Stevia, Purified Water